A woman from the Philippines became the first person to receive a residence permit designed for foreigners providing housekeeping service in Shanghai's Pudong district, which houses more than 300 Fortune 500 companies and is home to the China (Shanghai) Pilot Free Trade Zone.
Liu Chen, a Chinese American and president of Shanghai Affinity Biopharmaceutical Co Ltd based in Shanghai Zhangjiang National Innovation Demonstration Zone in Pudong, applied for the one-year residence permit for the housemaid he hired on March 14 and she obtained the permit on Mar 31.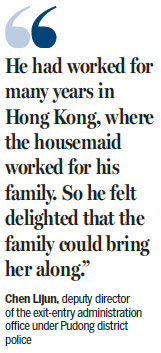 "He had worked for many years in Hong Kong, where the housemaid worked for his family. So he felt delighted that the family could bring her along to Shanghai thanks to the new policy," said Chen Lijun, deputy director of the exit-entry administration office under Pudong district police.