Zhongshan in South China's Guangdong province is welcoming 158 large investment projects, which are to be signed at the annual Trade, Investment and Top Talent Fair, which began on Tuesday.
Located 86 kilometers from the province's capital Guangzhou, Zhongshan city was packed with ambitious startup owners, investors and officials for the annual trade and talent fair, which broke its own previous record for investment, valued at 250 billion yuan ($36.2 billion).
Mature industry clusters and close communication with other countries have laid a solid foundation for Zhongshan to embrace more opportunities.
"We have five industry clusters in Zhongshan - lighting, medicine, manufacturing, textiles and new light sources," said Zhongshan's mayor, Jiao Lansheng. "We also have a dominating market share in lighting, furniture and theme park equipment."
According to Jiao, Zhongshan has a 60 percent share in the country's lighting market, 60 percent of mahogany furniture and 70 percent of theme park equipment.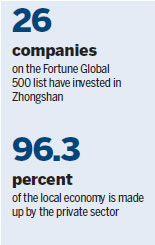 "Zhongshan began the opening-up initiative quite early and we have close connections with more than 200 countries and regions," he added. "Now we have more than 3,900 foreign companies investing here."
Not satisfied with its traditional prowess in industrial manufacturing, Zhongshan is looking forward to upgrading the economy's structure by hatching a new local high-tech sector.
"We now have 882 high and new-technology enterprises, double the number of two years ago. Zhongshan contains 46 research institutions, 42 post-doctoral work platforms and 48 incubators for high-tech projects," Jiao said.
At this year's fair, overseas investment is a major highlight. The Tracker Fund Group from Hong Kong has invested $300 million in an ecological agriculture project in Zhongshan. A new-energy project launched by the local Ruike New Energy has attracted 560 million yuan worth of foreign investment.
"Zhongshan has benefited from its great location and active investment environment. Here, we encourage innovation and value extraordinary human resources," said Jiao.
"We will seize the opportunity and build our city into an important strategic post in the region with greater international influence."
This year's fair has also highlighted a growing trend in the high-tech sector: A number of high-tech companies have brought their projects into the city, incorporating artificial intelligence, medicine, new energy and information technology.
BYD, China's automobile giant, is planning to build its production base for new-energy cars in Zhongshan.
Zhang Chuanwei, CEO of renowned Chinese new-energy company Mingyang Wind Power Group, has signed an agreement with the city to build an industrial park specifically for new energy and advanced equipment manufacturing.
"We plan to invest 20 billion yuan in building research centers and incubators," said Zhang. "Within the next five years Mingyang Group will boast five listed companies."
Apart from the innovation park Mingyang Group has purposed, the fair has also revealed that another 17 parks will be built in the future.
"Zhongshan is building a complete transport and logistical network to better connect it with the rest of the region," said Chen Rugui, Party chief of the city.
"We welcome industries moving out from Guangzhou, Shenzhen and Hong Kong where the market is already over packed."
He said building an open platform connecting professionals, capital and projects is key for Zhongshan to upgrade its economy.
To this end, Zhongshan has worked with Sunfo, a Shenzhen-based financial company, to create three industrial zones for financing, technological development and incubators.
Chen also said that Zhongshan would work hard to develop its advanced equipment manufacturing, culture and tourism. It hopes to attract more experts and businesses with better living conditions and a healthy investment environment by offering local residents and entrepreneurs better government services.
"The environment is vital. This includes the market environment, legal environment and international environment," said Chen. "It will help to provide a better environment for innovation to flourish, for wisdom to gather and for Zhongshan to become a better place for investment."
In order to ease the burden on enterprises, the government has released new policies reducing administrative costs, estimated to cut about 820 million yuan a year. It has also built an online administrative platform to provide more efficient services, according to Chen.
renxiaojin@chinadaily.com.cn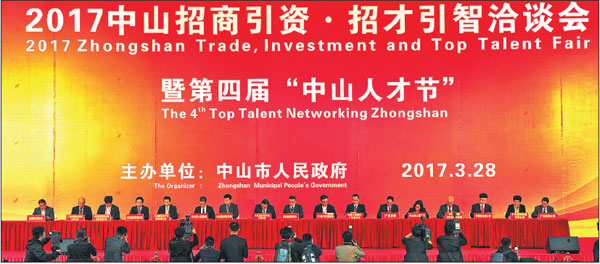 A total of 158 large investment projects are scheduled to be signed during the ongoing Zhongshan Trade, Investment and Top Talent Fair.Photos Provided To China Daily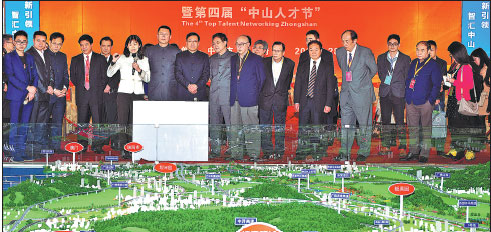 Attendees at the fair visit a diorama depicting Zhongshan's new development projects.
(China Daily 03/30/2017 page12)