Scandal heats up as PM is forced to deny that he made donations
The Osaka-based ultra-conservative educational group Moritomo Gakuen may be the "Watergate" for Japan's Prime Minister Shinzo Abe.
Yasunori Kagoike, former president of the scandal-hit institution, told lawmakers from Japan's opposition parties in Osaka on Thursday that he received donations from Abe for an elementary school his group had been scheduled to open next month.
Japan's Chief Cabinet Secretary Yoshihide Suga responded on Thursday that Abe did not donate money to the institution.
"The prime minister himself did not make a donation nor did he do so through Akie Abe (Abe's wife) or a third party," Suga told a news conference.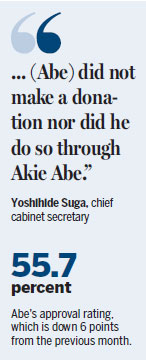 Kagoike withdrew the application last week for the school and resigned from Moritomo Gakuen's presidency thanks to the intense scrutiny over a piece of government-owned land it purchased at a questionable discount for the school.
Kagoike won a bid for the 8,770 square-meter of land at 134 million yen ($1.18 million), or 14 percent of the appraisal value of 956 million yen.
Japan Times asked the government to clarify how the land had been sold to Moritomo Gakuen at a fraction of its appraisal value and whether there was any political meddling in the deal between the institution and the Finance Ministry.
A kindergarten that Moritomo Gakuen runs in Osaka was known for its controversial nationalistic education. Moritomo Gakuen's curriculum is designed to instil patriotism in its pupils, who are required to bow before portraits of members of the imperial family and go on field trips to military bases.
Children memorize the 1890 imperial rescript on education, which demands loyalty to the emperor. The postwar United States occupation authorities banned the rescript, believing it had fueled prewar militarism.
The kindergarten also had online comments that Japan's media described as possible hate speech against Koreans and Chinese people.
Abe's wife Akie Abe had served as honorary principal of the kindergarten.
Moritomo Gakuen was found to have sought donations purportedly to build a "Prime Minister Shinzo Abe memorial elementary school".
An opinion poll the Kyodo News released on Sunday showed that support for Abe's cabinet dropped to 55.7 percent, down 6 points from the previous month, after weeks of questions in Parliament about the prime minister, his wife and Cabinet members' link with the controversial cut-price land deal.
Nearly 75 percent of those interviewed said Kagoike should be summoned to Japan's Parliament to get to the bottom of the deal, which 86.5 percent said was done at an inappropriately low price.
Kagoike serves as a steering committee member at the Osaka branch of the conservative group Nippon Kaigi, or Japan Conference, a nationalist lobby group with close ties to Abe and his cabinet. Abe and other leading politicians belong to a group of lawmakers affiliated with Nippon Kaigi, the Mainichi Shimbun said.
Abe has vehemently denied any connection to Moritomo Gakuen, saying he would "resign as prime minister and from the Diet (Japan's Parliament)" if either he, or his wife or his office was found to have been involved in the land deal.
caihong@chinadaily.com.cn
(China Daily 03/17/2017 page11)