Chinese resort brand to open first overseas property in Turkey
China's homegrown hospitality group, Wanda Hotels & Resorts, announced on Thursday that its first overseas property will open in Istanbul, Turkey, by the end of 2018.
The hotel, under the group's luxury brand, Wanda Vista, will open with 150 rooms and suites. Turkish company Maryapi invested in the project, which will be brought to life by French designer Philippe Starck, according to Wanda Hotels& Resorts, operator of the property and a subsidiary of property developer Dalian Wanda Group.
"It is our first luxury hotel with Chinese DNA outside China," said Qian Jin, CEO of Wanda Hotels & Resorts.
Founded in 2012 with the goal of becoming a globally renowned luxury hotel group, the company now owns and operates more than 100 hotels in the country, making it the largest Chinese hospitality group in terms of properties.
Its investment in Istanbul is a part of the company's global expansion plan. By the end of 2016, it had secured five overseas projects aside from the Turkish property - in London, Los Angeles, Chicago, Sydney and the Gold Coast.
"We go wherever Chinese tourists go," Qian said. The Belt and Road Initiative and Istanbul's strategic location on the Silk Road played central roles in the new property's creation, he noted.
"The original purpose of the Silk Road was to transport silks to the West. Today it has taken on a more significant meaning as exporting Chinese culture, of which lifestyle is an integral part," he said.
Wanda Vista, one of the four brands currently owned and run by the group, focuses on the quintessentials of the Chinese lifestyle led by the middle class, Qian said.
Munir Ozkok, chairman of Maryapi, said that the reason his company chose to collaborate with Wanda is because of the similarities shared by the two - they both started as developers.
Wang Jianlin, the founder and chairman of Dalian Wanda Group and the country's richest man, said in early 2016 that his company should transform from a real estate developer to a leisure services provider.
Wang announced at an annual company meeting in January that Wanda has achieved this goal by increasing its revenues from the service industry to 55 percent of the total, surpassing that of the real estate segment for the first time in the company's history.
Qian added that the group's hospitality projects will benefit from and be beneficial to those in other sectors such as sports, entertainment and tourism.
xujunqian@chinadaily.com.cn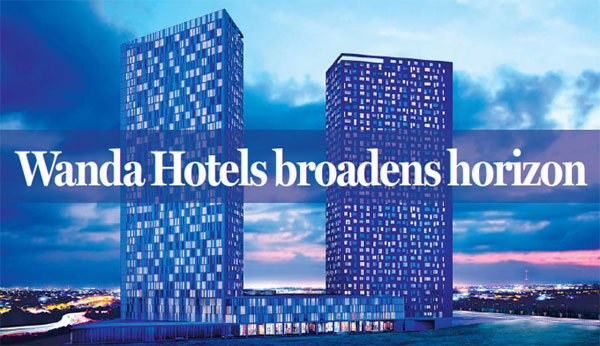 Wanda Vista Istanbul is scheduled to open in 2018. Photos Provided To China Daily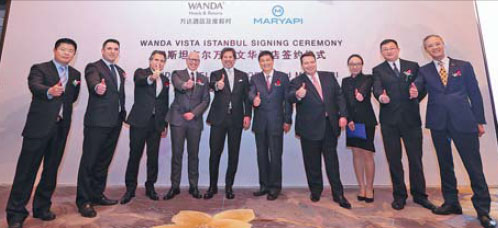 Executives of Wanda Hotels & Resorts and Maryapi attend the signing ceremony for Wanda Vista Istanbul on Thursday.
(China Daily 02/25/2017 page10)