Yang Dongliang, former head of China's work safety watchdog and a longtime Tianjin official, was sentenced to 15 years in prison after his conviction on bribery and embezzlement charges by a Beijing court on Tuesday.
The former minister of the State Administration of Work Safety was also fined 2 million yuan ($290,000) and ordered to return his illegal gains by the Beijing No 2 Intermediate People's Court, the court said in a statement.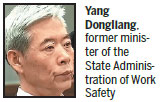 Yang said during the hearing that he accepts the verdict and will not appeal to a higher court, the statement said.