Brazil is sending 9,000 soldiers to Rio de Janeiro ahead of the city's Carnival to boost security, following violent street protests and attempts to paralyze the police, the defense minister said on Tuesday.
The minister, Raul Jungmann, told a news conference that the operation would "guarantee law and order".
Brazil's second biggest city is on edge ahead of its annual bash, when about one million tourists are expected to flock to street parties and to the Sambodromo Stadium for a showdown between top rival samba schools on Feb 26-27.
Riot police and anti-austerity protesters have clashed violently this month in the city center over debates in the state legislature on privatizing the public water utility.
In addition, relatives of police officers have attempted to blockade several stations since last week in protest at work conditions, the high mortality rate for police, and late payment of salaries.
Street police are barred by the Constitution from demonstrating.
However, the tactic of relatives camping outside stations in an attempt to paralyze the officers' movements has recently been employed in Espirito Santo state to the north of Rio, sparking a bloody, weeklong crime wave. Stability was only restored after the deployment of about 3,000 soldiers, including elite paratroopers, and armored combat vehicles.
Jungmann said Rio would not follow in Espirito Santo's footsteps. "Contrary to what happened and continues to happen in Espirito Santo, there is no loss of control, there is no disorder," he said.
In Espirito Santo, which borders Rio, the police protest movement spread across the whole state. Officers inside bases blockaded by civilians appeared to cooperate with the demonstrations by refusing to break through, effectively abandoning the streets.
In Rio, only a few bases have been targeted by family members. However, one of them was the elite Shock Battalion base, home to the same riot police unit used against anti-austerity protesters.
Troops are frequently used in Brazil to augment the often stretched police or to quell crime waves.
They were deployed in large numbers in Rio for recent legislative elections and during the 2016 Olympics.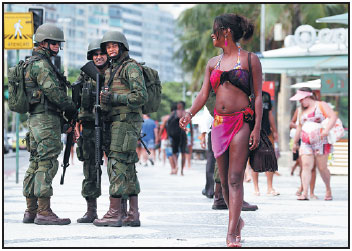 Brazilian soldiers watch a woman as they patrol before Carnival festivities in Rio de Janeiro, Brazil, on Tuesday.Sergio Moraes / Reuters
(China Daily 02/16/2017 page12)