Rising Tide Of Parcel Deliveries Poses Possible Pollution Threat
China's online shopping platforms have helped to boost the economy, but the waste material from the packages they supply has an environmental downside. Zheng Jinran reports.
Recently, Zhang Yajun received three parcels in one day; the last to arrive contained a feeding bottle for the baby she is expecting soon.
The 29-year-old expectant mother from Shijiazhuang, capital of Hebei province, was surprised to see that the little glass bottle was wrapped in three layers of plastic bubble wrap, making the packaging much larger than the contents.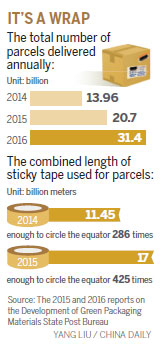 Today's Top News
Editor's picks
Most Viewed