St. Regis' butler services ensure a premium experience
More and more Chinese clients are expected to experience the signature butler services offered by upmarket hotel brand St. Regis, as it plans to expand vigorously in the Chinese market, said group executives during a butler award ceremony at St. Regis Macao last week.
Fay-Linn Yeoh, director for brand management at St. Regis Asia-Pacific, said the essence of St. Regis' butler services is discreet, tailor-made and personalized care for all guests, which begins before their stay and extends after they leave.
According to Yeoh, the services are aimed at saving guests' precious time: "Let the St. Regis butlers help you with luggage packing and garment pressing - which will usually take more than half an hour. You can save your time to arrange for meetings and call back home to talk with your family and friends."
"There is also an eButler service," Yeoh added: "During your stay, whether you are inside or outside the hotel, St. Regis' butler service is accessible at any hour via email."

Butlers at St. Regis provide services for guests. Photos Provided to China Daily
"Everyone in the hotel is a butler, who will render all these services for guests," Yeoh explained.
For guests to St. Regis hotels in China, there are also localized services. For instance, a moving library is one such service targeting young guests.
Partnering connoisseurs
As a recent move in its marketing strategy for China, St. Regis last month established a partnership with Wan Baobao, a renowned Chinese jewelry designer and a prominent figure in China's high society, as its brand ambassador, or St. Regis Connoisseur.
"We engaged Wan Baobao as a connoisseur to address the needs of the Chinese mainland market," Yeoh said. She noted that society in China is different from New York, but people here are as aspirational as any place else.
"Many of our guests are very successful and they'd like to try something new: a bloody mary cocktail, Champagne and afternoon tea - these are all among the offerings at St. Regis," she explained.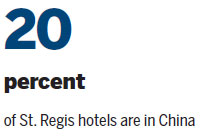 "We have a number of ambassadors from around the world, but Wan is the first from the Chinese mainland," Yeoh said.
Sherry Xue, associate director for brand management at St. Regis Greater China, said Wan's status as a prominent figure in the fashion industry is relevant to the brand value of modern day St. Regis.
"Baobao is appealing to our clients because most of our guests have a special passion for fashion and art," Xue said.
Wan was also at the butler award ceremony in Macao, designing a butler's pin for the awarded employees.
She said she has been a frequent guest at St. Regis hotels and she was impressed and touched by its butler services many times.
"I remember one year in New York, I felt sick amid a tight schedule. A St. Regis butler - she might be Chinese-American - noticed that," Wan said.
"One hour later she brought me a bowl of hot porridge. It was definitely a surprise. You know what a bowl of hot porridge means to a Chinese person feeling sick in a foreign country," she said.
An expanding presence
Yeoh confirmed that a new hotel will open at the end of the year in Changsha, capital of Hunan province.
This will be followed by another hotel opening next year, this time in Shanghai's Jing'an district, she said, adding that there are also plans for openings in Haikou in Hainan province, Lijiang in Yunnan province and Qingdao in Shandong province.
Xue explained there are seven St. Regis hotels in China, with the newest opening in Macao in December last year.
"Since it was founded in 1904, St. Regis has opened 35 hotels worldwide, with one-fifth of those in China," she said, adding that this indicates the brand's emphasis on the Chinese market.
John Jacob Astor originally founded the St. Regis brand in New York. It is now a luxury international hotel and resort brand under Marriott International Inc.
Zhaoshijun@chinadaily.com.cn
(China Daily 11/26/2016 page10)
Today's Top News
Editor's picks
Most Viewed