Shanghai Desano Chemical Pharmaceutical Co, based in the Zhangjiang National Innovation Demonstration Zone, is playing a significant role in supporting China's anti-HIV campaign.
Established in 2005, Desano is one of the largest producers of HIV-related medicines in the country, in terms of product variety and production scale.
As a government-designated manufacturer, it is responsible for providing medicines to about half of those diagnosed with HIV in China. It is also one of the largest domestic HIV drug ingredients suppliers and exporters.
As an early mover in developing such products in the country, Desano is one of the first batch of companies that obtained approval from the China Food and Drug Administration to produce HIV-related drugs locally.
In 2015, Desano reported 1.67 billion yuan ($224.55 million) in sales revenue and 147 million yuan in net profit.
It is the first Chinese company to pass the World Health Organization's assessments to produce ingredients for HIV drugs. It passed the United States' Food and Drug Administration's inspection for three medicines in this field in 2009.
In July 2015, Desano reached a strategic agreement with ViiV Healthcare UK Ltd, a global HIV specialist established in November 2009 by GlaxoSmithKline PLC and Pfizer Inc, to produce dolutegravir in China. Dolutegravir is an approved medicine for HIV treatment.
The agreement has offered an additional source of the dolutegravir active pharmaceutical ingredient, and allows ViiV Healthcare to offer a competitive supply of the finished product for China and a number of developing countries, according to the company.
"This manufacturing agreement with Desano for dolutegravir is a significant achievement to facilitate access to our medicines," said Dominique Limet, CEO of ViiV Healthcare in 2015.
"With our recent agreement with the Medicines Patent Pool and our other access initiatives, this deal is aligned with our ongoing commitment to improve access to our medicines in countries where the need is greatest," Limet said.
Kan Ying, president of Desano, said: "We believe that working together with ViiV Healthcare we can better contribute to the global goal of making treatment options available to patients across the globe."
MPP has provided approval to Desano to produce six types of HIV medicines and their ingredients in China. The company has been authorized to sell the products to 110 low and middle-income countries, including India, South Africa, Kenya, Zambia and Tanzania.
MPP is a United-Nations-backed public health organization working to increase access to treatments for HIV, viral hepatitis C and tuberculosis in low and middle-income countries.
"MPP's decision is recognition of the efforts of Chinese companies and will promote the internationalization of Chinese businesses," according to a statement from the company. "It affirmed our commitment to anti-virus medicines development and we feel confident about strengthening investment in related areas," the statement added.
Desano has developed strong research and development capacities in the last decade. It is one of only a few that has influence over core anti-HIV technologies across the world and has 118 authorized patents, 95 of which are domestic.
Desano's R&D center in Shanghai has a 6,000-squaremeter professional experiment area, which is designed and equipped according to Good Manufacturing Practice standards. It has a multi-background R&D team that can provide effective solutions in new medicine development processes.
The developer has established strong ties with leading research institutions and universities such as the Chinese Academy of Sciences, the Chinese Center for Disease Control and Prevention, Fudan University and Nankai University to develop products based on market demand.
Global cooperation is an effective way to support Desano's development, said the company's decision-makers.
It has established cooperation with famous research institutions such as the Aaron Diamond AIDS Research Center and Johns Hopkins University to become more informed about the most advanced technologies in the world.
tangzhihao@chinadaily.com.cn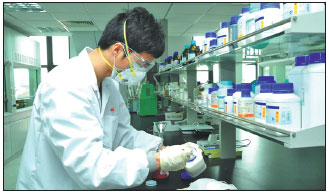 A researcher conducts tests at a lab in Shanghai Desano Chemical Pharmaceutical Co in the Zhangjiang National Innovation Demonstration Zone.Provided To China Daily
(China Daily 11/21/2016 page6)