Premier Li says '16+1' cooperation benefits world peace, development
The following is the full text of the speech by Premier Li Keqiang at the Fifth Summit of China and Central and Eastern European Countries in Riga, Latvia, on Saturday.
Your Excellency Prime Minister Maris Kucinskis,
Colleagues,
It is a great pleasure for me to come to Riga, the heart of the Baltics, for the Fifth Summit of China and Central and Eastern European Countries. Allow me to extend, on behalf of the Chinese government, our appreciation to the Latvian government and Prime Minister Kucinskis for their thoughtful preparation and arrangements for the summit. I also would like to warmly welcome the EU, Austria, Switzerland, Greece, Belarus and the European Bank for Reconstruction and Development, who have joined us as observers.
In the past September, China successfully hosted the G20 Hangzhou Summit, where broad consensus was reached on moving "Toward an Innovative, Invigorated, Interconnected and Inclusive World Economy". The summit underscored the need to reinvigorate the twin growth engines of international trade and investment and build an open world economy. The summit was widely acclaimed by the international community as a visionary and groundbreaking milestone, offering new thinking on uplifting the world economy and charting a new course for closer international cooperation.
The "16+1" framework has been a creative endeavor made by China and CEE countries to further our friendship and cooperation. Thanks to our joint efforts over the past five years, the "16+1" cooperation has grown from strength to strength and increasingly matured. This has been evidenced by frequent high-level visits between China and CEE countries, enhanced political mutual trust and solid progress in our cooperation across the board.
We can safely say that our efforts to build a new model of partnership featuring openness, inclusiveness and win-win outcomes have paid off. Since we met in Suzhou last year, China and CEE countries have made comprehensive progress in implementing the "1+6" cooperation framework guided by the Medium-Term Agenda for Cooperation.
Much has been achieved in this regard: the Stanari thermal power plant has been put into operation; the acquisition of the Smederevo steel plant has gone smoothly; the Budapest-Belgrade Railway and other key projects have made notable headway; cooperation in nearly 20 areas including economy, trade, culture, sub-national exchanges and youth has been institutionalized, and we are making inroads into new fields such as forestry, exchanges between our courts, political parties and capital cities. So far, the 50-plus measures set out in the Suzhou Guidelines have been largely carried out.
The world we live in faces multiple challenges, from sluggish global recovery to constant flare-ups of regional hotspots and conflicts, from terrorism, refugee issues to other acute nonconventional security threats. Uncertainties and destabilizing factors confronting all of us have been rising. At the same time, our common interests have grown in tandem, so is the need for cooperation and common approaches. Working together to expand, enhance and upgrade the "16+1" cooperation will not only deliver more benefits to people in China and CEE countries, but will also contribute to world peace and development.
The "16+1" cooperation should continue to follow and energize the prevailing trend of globalization. Globalization and regional economic integration, which has provided a vital driving force for fast global growth over the past several decades, serves the long-term and fundamental interests of all countries. Yet recent setbacks in globalization and resurgent protectionism of various forms have cast a shadow over the future prospect of the world economy. It is high time that we vigorously promote trade and investment liberalization and facilitation, keep our markets open to each other, enhance regional economic cooperation and jointly oppose trade and investment protectionism. By doing so, we will not only add momentum to development in our respective countries, but also contribute our share to world economic recovery.
The "16+1" cooperation requires an international environment of peace, stability and sustainable development. The "16+1" cooperation in turn is a positive factor for world peace and development. The international community needs to step up coordination and common response, and offer support for proper settlement of hotspot issues in the interest of world peace and regional stability.
Europe is a major player on the world stage. The fact that we are at different stages of development only spells out strong complementarity between our economies. We both advocate multilateralism and diversity of civilizations, and we are both participants and contributors to the international system. The "16+1" cooperation is a part of and helpful complement to China-Europe cooperation. It will help advance China-EU partnerships in four aspects and five platforms, and contribute to more balanced development across Europe and European integration. China is a staunch supporter of the integration process in Europe. We want to see a prosperous and stable EU. We believe that UK-EU relations will make a steady transition.
Colleagues,
Thanks to our hard work for more than four years, the "16+1 "cooperation has acquired a more effective institutional framework, more solid foundation and great prospects for further expansion. The theme of our summit today, "connectivity, innovation, inclusiveness and common development", is both timely and relevant. China would like to propose efforts in the following four areas for our future cooperation:
First, advance cooperation on infrastructure and connectivity. Infrastructure development is both a significant part of the Belt and Road Initiative and a priority in the "16+1" cooperation. China encourages reputable and capable Chinese companies to take part in the development of expressway networks, port networks, power grids and internet development of CEE countries through project contracting, PPP, technological consulting, management and operation. We are ready to advance the development of the Budapest-Belgrade Railway link and China-Europe Land-Sea Express Line to forge transport arteries running through the CEE region.
We support the development of transport corridors between Asia and Europe. We will set up more logistic centers in CEE countries and improve the international supply chain and border crossing rules on the transport corridors. All these efforts will help enhance CEE countries' role as a transport hub on the Eurasian Land Bridge.
Second, enhance financial cooperation to solidify the foundation for the "16+1" cooperation. China's high-quality and affordable equipment and production capacity and CEE countries' need for industrial upgrading have formed an economic complementarity that has made our cooperation promising. We may easily come up with a long wishlist of good projects for the "16+1" cooperation, yet the bottleneck lies in funding. At the Business Forum earlier in the afternoon, I announced the official establishment of the China-CEEC Financial Holding Co. China has signed MOUs with Poland and the Czech Republic on making financial contributions and other CEE countries are most welcome to take part. China is supportive of expanded cooperation on local currency settlement and supports the Silk Road Fund and other financial institutions in providing financing for the "16+1" cooperation projects through diverse forms such as equity and bonds. China is willing to work with CEE countries to set up financial branches and subsidiaries in each other's countries and carry out third party cooperation under the framework of EBRD. Project financing should be diversified and accord with the principle of corporate initiative and market-based operation. Governments should also follow commercial rules in facilitating such financing, rather than one side taking all the benefits. With financial cooperation serving as a catalyst, we will be able to get major projects off the ground in an expeditious way.
Third, explore cooperation on green economy. Green development is the trend of our times. "Green" has also been identified as one of the five key words in China's new development approach. Blessed with a superb natural environment, the CEE countries produce high-quality and affordable agricultural products which can well meet the rapidly rising demands of Chinese consumers. China would like to import more such products, and work with CEE countries to expand agricultural investment and trade, explore joint demonstration projects such as processing bases of agricultural products, and boost cooperation on green agriculture between provinces and cities. We are also willing to step up cooperation on environmental protection, and expand the joint development of clean energy including wind and solar power. As everyone pitches in, the seedlings of our cooperation on green economy will grow into lush trees and even forests.
Fourth, intensify people-to-people exchanges. Friendship and mutual understanding between the people holds the key to state-to-state relations. We should enhance people-to-people exchanges by fully exploiting educational, cultural, tourism, health, local and youth cooperation mechanisms. We marked the Year of People-to-People and Cultural Exchanges with colorful events such as Literature Forum, Cultural and Creative Industries Forum and visits of CEEC painters to China, which has helped increase mutual understanding and friendship between the two sides. China supports the early establishment of a "16+1" coordination center on cultural cooperation, and will invite 1,000 young people from CEE countries to the Bridge of Future youth workshop in the next 10 years. As China and the EU have extended visa exemption treatment to each other's diplomatic passport holders, we hope that CEE countries can adopt more visa facilitation measures and special arrangements for Chinese tourists, which will help attract more of them to your region. China supports designating 2017 as the Year of China-CEEC Media Cooperation, as this will increase the visibility of our cooperation and bring our people more closely together. When people-to-people exchanges boom, China-CEEC cooperation will thrive.
Colleagues,
A great future for our cooperation lies right in front of us. Let us seize the opportunities, beef up actions, and work together to promote China-Europe friendship and cooperation for the greater benefit of our peoples.
Thank you.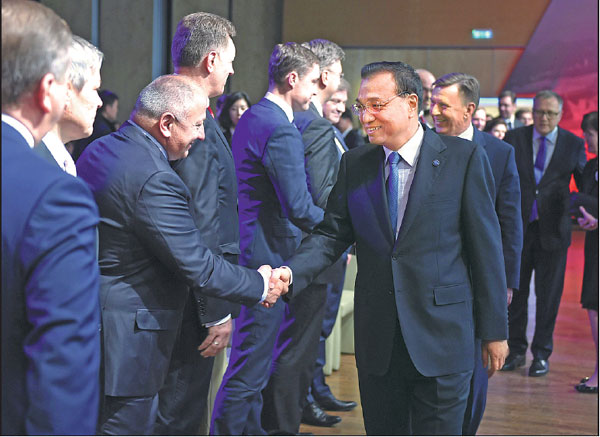 Premier Li Keqiang attends the Fifth Summit of China and Central and Eastern European Countries in Riga, Latvia, on Saturday.Xie Huanchi / Xinhua
(China Daily 11/07/2016 page11)
Today's Top News
Editor's picks
Most Viewed