Thailand's King Bhumibol Adulyadej, the world's longest-reigning monarch, has died at age 88, the country's Royal Palace said.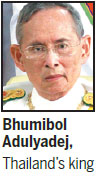 The king, revered in Thailand as a demigod, passed away peacefully on Thursday at Bangkok's Siriraj Hospital, it said.
Prime Minister Prayuth Chan-ocha announced that Crown Prince Maha Vajiralongkorn will be the new monarch, in accordance with the Constitution. He said government officials will observe a one-year mourning period.