Dutch people are always rolling their sleeves up and showing their energy, according to Pieter van de Stadt, mayor of Lansingerland, which is next to the Dutch port city of Rotterdam.
This, he continued, is a trait the Dutch share with the Chinese.
"They (the Dutch) are always hardworking and so are the Chinese," said van de Stadt. "That is the foundation for us to expand cooperation."
Lansingerland is known for its high-quality agricultural industry, which is one of the Netherland's strengths.
Headed by flowers and plants, official figures show Dutch farmers exported produce worth 81.3 billion euros ($90.5 billion) last year, which is an all-time record.
In global rankings, the Netherlands is second only to the United States in terms of agricultural exports, followed by Germany, Brazil and France.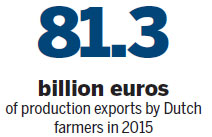 Attracted by its competence in flowers, greenhouse agriculture and food processing safety, China has had a longstanding strategic partnership with the Netherlands in expanding modern agriculture cooperation to meet its grain safety challenges.
But van de Stadt said there is still great potential that as yet remains unexplored by both sides. First, his city is very close to the port of Rotterdam and very soon a railway freight facility linking Sichuan province and the port will be launched. Meanwhile, the Netherlands' eco-agriculture sector, as well as food processing and safety, have become very competitive. "We have already attracted all of the world's leading agriculture companies to invest here and China should expand its presence here," the mayor said.
Shouguang Group, a leading agricultural business from China's Shandong province, has invested in the Netherlands since 2012. Wang Shaoqing of the Shouguang Vegetable Industry Holding Group Netherlands B.V. told Dutch media recently that as China still lacks experience when compared with that of Netherlands, it has emphasized the exchange of information.
Shouguang has designed a training program for professionals in the fields of seed breeding, greenhouse management, food safety, and retail - supply chain development.
It also plans to expand its greenhouse production in the Netherlands as the group already operates a large number of greenhouses across China.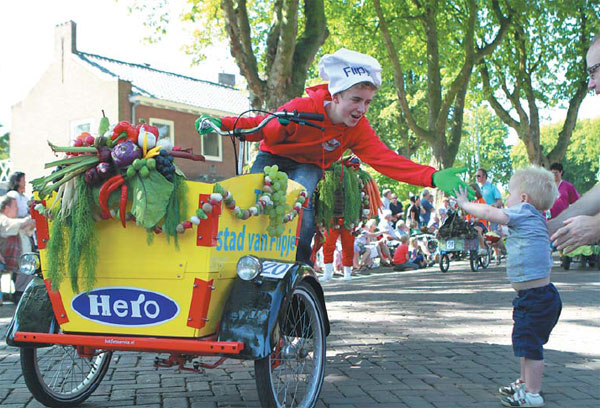 Children enjoy a day at a greenhouse fruits carnival in the Netherlands. Ding Chen / Xinhua
(China Daily 09/04/2016 page27)