Enthusiasm for "Red" tourism has heated up across the country, as this year marks the 95th anniversary of the founding of the Communist Party of China, which fell on July 1.
This year also marks the 80th anniversary of the Red Army's Long March as well as the 85th anniversary of the founding of the Red Detachment of Women.
"Red" tourism features visits to landmarks that became significant during China's revolutionary period.
More than 4 billion tourists visited "Red" tourism destinations, including sites in Nanjing and Yan'an, over the past decade, according to the National Tourism Administration.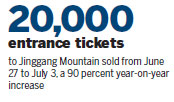 Among those sites, Jinggang Mountain in Jiangxi province has proved especially popular with travelers.
Statistics from the country's leading online travel agency ly.com show that the number of reservations for establishments at or near Jinggang Mountain scenic spot increased by 62 percent during this year's summer vacation period.
The scenic spot's ticket office confirmed that more than 20,000 entrance tickets were sold from June 27 to July 3, an increase of 90 percent over the same period last year. Nearly one-fifth of all those tickets were sold on July 1 alone.
Jinggang Mountain's tourism administrative bureau is exploring ways of diversifying its tourism products to ensure that current growth is maintained.
The diversification plans are part of the bureau's wider efforts to promote the transformation and upgrading of the local tourism industry, and further increase Jinggang Mountain's appeal to visitors. The bureau is currently looking for investors to inject capital into some 30 planned tourism projects.
Negotiations are ongoing on a range of projects, including one with China Comfort Travel Group, which features rural leisure and health tourism, selfdriving tours and recreational vehicle camping, mountain hiking and agricultural tourism. The project needs a total investment of about 300 million yuan ($45.2 million).
Guangzhou Kids Cove Technology is also in discussions with the bureau about building an eco-adventure park. With a proposed investment of 100 million yuan, the park will include outdoor climbing facilities.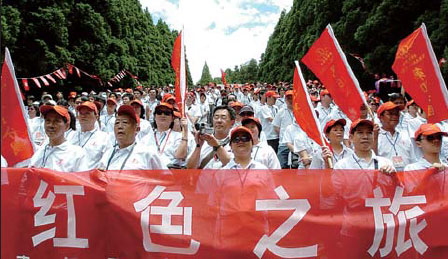 More than 700 visitors from Hong Kong set out on their journey from Jinggang Mountain to other places in Jiangxi province to learn about the Party's history. Zhu Wenbiao / For China Daily
(China Daily 08/25/2016 page7)