Car-sharing seen as answer to many ills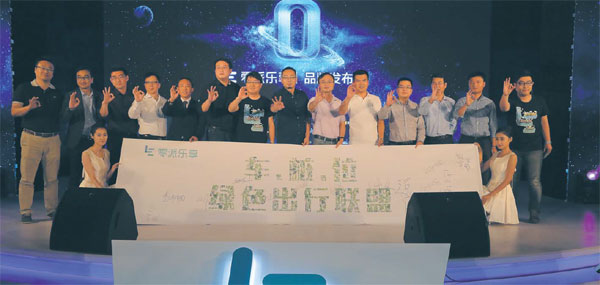 Car time sharing company LeShare, who frees users from cash deposit, officially launches its app and service on Friday in Beijing. Photos Provided to China Daily
Govt restrictions are helping to boost the expansion of market
A new player in China's car time sharing business is taking the sector toward a deposit-free mode for the first time.
LeShare, LeEco Holding's time sharing arm, put its app and service into public use on Friday in Beijing, after months of testing, with a fleet of 300 full electric vehicles.
Users need only register with a mobile number through the smartphone app or WeChat account, and upload their driver license information. They will then be able to find the nearest available vehicle from 60 parking sites scattered throughout the capital city.
"Our cars are in use for about 10 hours a day, topping the Chinese market," said Cui Ruizhe, head of product management of LeShare.
Car time sharing operators usually require a cash deposit of about 1,000 yuan ($152.8) or more. Time sharing customers are charged on a time or kilometer basis, bypassing the upfront costs of a car. Users drive the vehicles then return them to any of the parking sites.
The company takes care of vehicle maintenance, insurance and other auxiliary costs. The users and business staff never need to meet in person.
Cui said:"Besides our lower rental fees, each customer gets 30 minutes free use twice every day."
Liu Shijin, former vice-president of the Development Research Center of the State Council, said: "The sharing business, as a new commercial pattern, has higher economic efficiency. It may bring significant improvements to people's well-being and society development."
Duan Liren, former vice-director of the Beijing Municipal Transportation Administration Bureau, said transportation sharing could be a solution to existing traffic issues.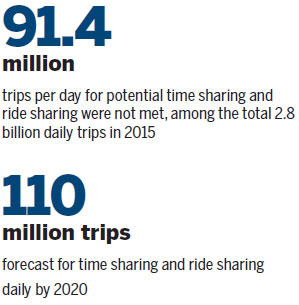 Eight Chinese cities including Beijing, Shanghai, Guangzhou and Shenzhen are restricting new vehicle plate registrations. The policy has triggered acceleration in the expansion of the car sharing market, as the business helps users avoid car plate issues.
A car-sharing branch under the Internet Ecosystem Institute was established on Thursday, led by LeEco Holdings-controlled Yidao Yongche, to research and advise on the fledgling business field.
Time sharing
LeShare plans to expand its fleet to 3,000 units by the end of this year, and provide the service in seven cities including Beijing. Shanghai, Chengdu, and Shenzhen. LeEco Holdings plans to invest 2 billion yuan by 2019, hoping to broaden its service area to 100 cities with 200,000 vehicles.
Shouqi Group's time sharing arm Gofun mainly operates across Beijing. BAIC Group and smartphone maker Taiwan Hon Hai Technology's joint venture GreenGo focuses on shopping areas and industrial parks.
Starting from Shanghai, Shanghai International Automobile City Group's EVCard program is expanding to adjacent cities. Meanwhile, the Zhejiang Microcity Electric Vehicle Operation Co's Microcity EV, popular in Hangzhou city, is now entering Shanghai and Yunnan province.
Zhang Junyi, a partner with Roland Berger Strategy Consultants Greater China, said: "Cars are now becoming a mobile office for many people. More and more customers demand better individual experiences."
The Munich-based consulting firm has noted that the industry faces issues of parking spaces, dispatching among locations and handling of the used vehicles.
The customers' self image when using low-end mini-size new-energy vehicles, and limited charging and drop-off spots are also hindering demand.
Premium carmaker's time sharing plans usually provide better vehicle fleets, but on a much smaller scale. Daimler AG's Car2go runs Smart and BMW Brilliance Automotive's Zinoro provides a full electric sport utility vehicle developed from BMW X1.
Ride sharing
When a car owner drives his or her own vehicle and allows another person to join the trip for a fee, it is usually known as ride sharing. The car driver is not supposed to be a professional, but just sharing their planned journey.
Ride sharing differs from car hailing services, where a driver uses his or her own vehicle to take a customer where they wish to go.
Roland Berger's report found that the potential demands on time sharing and ride sharing that were not fully met reached about 91.4 million trips per day of the total 2.8 billion daily trips in 2015.
The potential market for time sharing and ride sharing may hit 110 million trips daily by 2020, Roland Berger predicted.
The major ride sharing players in China include Apple Inc and Legend Holdings-backed Didi Chuxing, LeEco-controlled Yidao Yongche and Uber Technologies from the United States.
Didi currently handles more than 11 million rides a day and serves about 300 million users. Yidao is serving more than 40 million customers worldwide. Both are providing ride sharing and a large portion of professional car hailing services.
President of IResearch Consulting Group Ruan Jingwen said: "Not only does there exist huge potential on the demand side, but also on the supply side. There is a strong willingness in sharing business users, both customers and drivers."
haoyan@chinadaily.com.cn
(China Daily 05/23/2016 page19)
Today's Top News
Editor's picks
Most Viewed