The financial sector in Qingdao, Shandong province, due to growth within the Qingdao Wealth Management Financial Comprehensive Reform Pilot Zone, is helping to boost the region's real economy.
The real economy involves the production of goods and services, which is distinct from the part of the economy concerned with buying and selling on financial markets.
Through the pilot zone, established in 2014, the city launched a campaign last year for bank executives to visit 2,116 major companies in Qingdao and secure 53.2 billion yuan ($8.2 billion) in loans.
By the end of December, total loans by banks in the city reached 1.157 trillion yuan, an increase of 9.8 percent year-on-year.
The city recently designated a slew of sectors and industries to grow through the support of the financial sector: healthcare, education, film, sports, exhibitions, retail, advertising, charitable endeavors, high-end automobiles, airlines, yachts and cruise ships. It expects profit from these industries to grow by more than 10 percent this year.
Meanwhile, asset-trading platforms have sprung up in the city, including the Qingdao Over-the-counter Clearing House, the Qingdao International Marine Property Exchange Center, Haier United Credit Asset Trading Center and the Arts Exchange Center.
More than 300 companies have been listed in the Qingdao Blue Ocean Equity Exchange, a regional equity trading market, with more than 1,400 companies.
The market's total transaction amount has exceeded 10 billion yuan, raising more than 2.7 billion yuan for companies. It has also begun cooperation with South Korea's Kosdaq market.
Over the past two years, Qingdao has reached out to a number of countries and regions involved in the Belt and Road Initiative to spur cooperation in the financial services industries.
It is promoting mutual investment and trade with New Zealand, Australia, Switzerland, Britain, Italy, Japan, Singapore, Israel and Hong Kong.
On Jan 22, the British embassy and the UK Trade & Investment, the government organization that promotes international trade, held the Financial Services Showcase in Qingdao to talk about potential cooperation in wealth management, pension management and talent development with the city.
In February, Liu Mingjun, vice-mayor of Qingdao, was part of a city delegation that visited the UK. He met Nikhil Rathi, CEO of the London Stock Exchange, to discuss the possibility of Qingdao companies gaining a listing on the nation's bourse.
Liu also visited the global headquarters of PricewaterhouseCoopers and met Richard Collier-Keywood, vice-chairman of PwC.
The Qingdao delegation also hosted a Qingdao-UK Cooperate Exchange Meeting in the UK.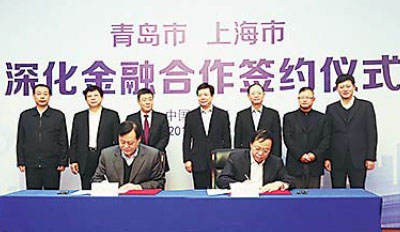 Qingdao Vice-Mayor Liu Mingjun (seated, right) signs an agreement with Hou Weidong, vice-president and CEO of the Bank of Communications, at a January event in Shanghai that promoted cooperation with major financial institutions. Provided to China Daily
(China Daily 03/18/2016 page12)