Melbourne Polytechnic had its origins in 1912 as the Collingwood Technical School, and has been providing quality vocational training for more than 100 years. during the past decade it has moved into degrees and masters programs.
The polytechnic was formerly known as the Northern Melbourne Institute of TAFE. The change of name in 2014 was followed by the appointment of new CEO Robert Wood this year, following his previous senior roles shaping government policy in a multicultural environment.
The government-funded institute is poised to enter a new era of engagement with students and their future employers.
Hundreds of courses that include practical placements prepare its graduates well and give them a head start in their careers.
The institute has more than 25 years' experience in the international arena and delivers programs in offshore locations, largely in China, with quality partner institutions.
"We provide customized programs for our students," said Wood. "We meet with the students and orient them according to what best fits their profile. Then they can see their career vision with greater clarity."
"Forty-eight percent of our students come from a non-English speaking background," Wood said. "We have created multicultural programs that integrate students from other countries in order to make their lives easier and more conducive to learning here."
The practical education programs are focused on opportunities in the Australian and international labor markets and include strong partnerships and connections with the Australian industrial sector.
"The polytechnic concept and model is something new for the Australian education sector and we intend to make it the best example in a global market," Wood said. "If your goal is a successful career, the place for you is Melbourne Polytechnic - we can help you to build those important foundations."
www.melbournepolytechnic.edu.au
World Eye Reports provided the story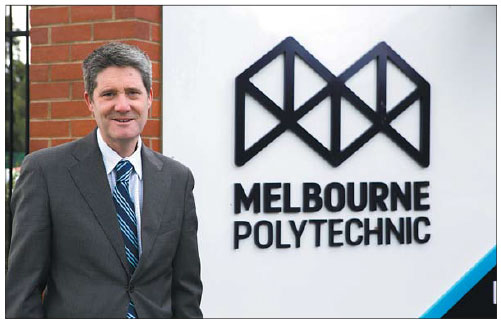 Robert Wood, CEO of Melbourne Polytechnic
(China Daily 11/17/2015 page18)