China-US co-op to address climate change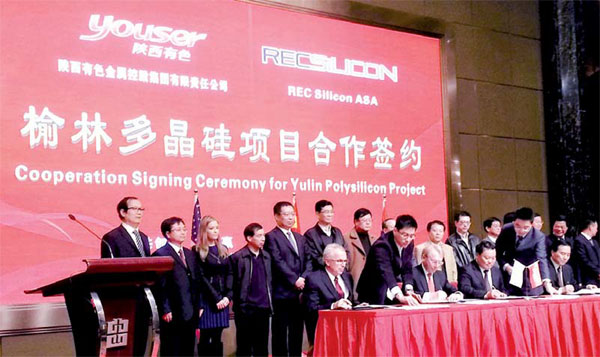 REC Silicon and SNF New Energy sign an agreement on Feb 26, 2014 to build a polysilicon facility in Yulin, Shaanxi province.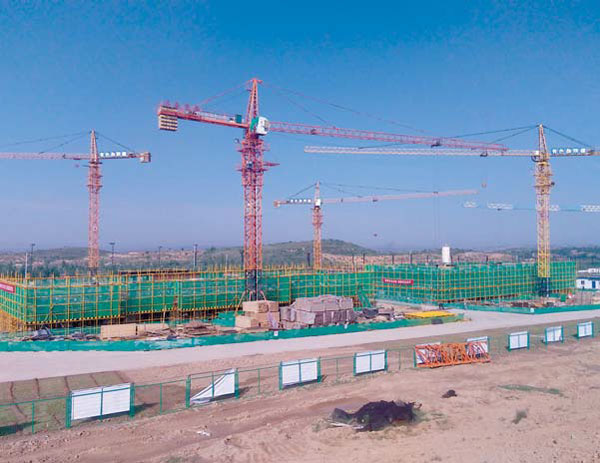 The TianREC plant is scheduled to start production by 2017. Photos Provided to China Daily
REC Silicon has joined with SNF New Energy to build the first facility in China to produce FBR granular polysilicon on a commercial scale
Together, the United States and China account for over one-third of global greenhouse gas emissions. However, both countries remain focused on reducing the effects of climate change and have pledged to work diligently toward addressing climate change and decarbonization of the global economy.
Renewable energy is the fastest growing energy sector globally, with China and the US leading that growth. In 2015, solar energy is expected to grow roughly 30 percent from 2014, and it will continue to grow in the coming years.
REC Silicon is a leading producer of advanced silicon materials, supplying high purity polysilicon and silicon gases such as silane to the global solar and electronics industries, and it is a leader in reducing the cost of solar manufacturing through its advancements in polysilicon production.
Most of the energy consumption associated with the production of solar modules is related to the production of polysilicon, which is the primary material used to make them.
In response to the energy efficiency challenges in the production of polysilicon, REC Silicon developed its fluidized bed reactor, or FBR technology, which uses about 90 percent less energy than the most widely used Siemens process, which was first developed by the German company in the 1950s.
FBR is a continuous process, so there is less wasted downtime and setup effort required, and it produces more polysilicon per cubic meter of reactor space, with a 30 percent increase in ingot manufacturing efficiency and productivity.
The FBR process not only yields high quality polysilicon in a highly efficient, continuous process, it also creates a unique form factor compared to traditional polysilicon. Its small granular form factor means that it can be poured directly into crucibles to fill the voids left between the pieces of traditional chunk material.
At 16,000 metric tons of capacity, REC Silicon's Moses Lake plant in Washington is now the largest FBR plant in the world. It uses the first generation of FBR technology to produce granular polysilicon for the solar industry.
REC Silicon has continued innovating and has now developed its second generation of FBR technology, which while remaining as energy efficient as the first generation can produce granular polysilicon that is pure enough for the electronics industry.
Shaanxi province will soon be home to what the company says will be the most efficient and technologically advanced polysilicon plant in the world, due to a joint venture between REC Silicon and Shaanxi Non-Ferrous Tian Hong New Energy Co Ltd (SNF New Energy).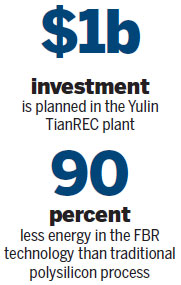 This joint venture, the TianREC plant, will build and operate a new polysilicon plant in Yulin, Shaanxi province, with an investment of more than $1 billion. It will be the first facility in China to produce FBR granular polysilicon on a commercial scale.
It will utilize REC Silicon's FBR-B technology for a capacity of 19,000 metric tons of electronic grade granular polysilicon. The new production facility will supply both China's solar manufacturing industry and its growing electronics and semiconductor industries.
In addition to electronic grade granular polysilicon, the Yulin plant will also produce 300 metric tons capacity of high purity Siemens polysilicon, including advanced semiconductor float zone material, and 500 metric tons capacity of silane gas loading.
Currently, there are no other Chinese producers of the high purity float zone polysilicon required for use in 300 mm semiconductor wafers, so the joint venture is important for the advantages it will bring to China's semiconductor manufacturing industry.
The TianREC plant in Yulin is well situated to supply customers in the Chinese semiconductor industry. Shaanxi province, particularly the Xi'an Hi-Tech Industrial Development Zone, is rapidly becoming a hub of technological advancement in this sector.
Once the TianREC plant begins production, it will play a significant role within the development of Shaanxi's integrated circuit supply chain, as a source of high quality materials.
Construction on the TianREC plant is well underway, and it is on track for start-up by 2017.
REC Silicon has over 25 years of experience and best-in-class proprietary technology in its two US production plants at Moses Lake, Washington, where it produces solar grade polysilicon and at Butte, Montana, where electronic grade polysilicon and silicon gases are produced.
REC Silicon's polysilicon and silicon gases are cutting edge raw materials used in the international solar and electronic industries in applications such as solar panel modules, smart devices, flat panel displays and hybrid electronic vehicles.
Shaanxi Youser Group, which owns SNF New Energy is a major State-owned enterprise in Shaanxi with a diversified portfolio of numerous subsidiaries involved in mining, metals, and refining, with revenues exceeding $14 billion.
zhuanti@chinadaily.com.cn
(China Daily 09/23/2015 page26)
Today's Top News
Editor's picks
Most Viewed