Beijing Economic-Technological Development Area, a modern industry zone in the capital's southeast suburbs better known as E-Town, has stepped up its efforts to sharpen its edge in innovation.
The inaugural E-Town innovation and entrepreneurship competition attracted 501 entries and gained a lot of publicity this year. The field was whittled down to 36 finalists during the zone's first roadshow on Aug 28.
Organizers said the event showed that E-Town is a world-leading innovation center, thanks to its enthusiastic participants and far-sighted investors.
According to reports, the Beijing E-Town Global Roadshow was part of the area's efforts to improve its public services for innovators. The 36 innovation projects were showcased in a global roadshow for a national-level competition, which will continue to be held in cities throughout the world.
According to an E-Town committee official, the roadshow will become a regular program featuring innovative projects, companies and product presentations and promotions. The event distinguishes itself by featuring a large talent pool and a cluster of business opportunities, according to organizers.
E-Town is home to 80 Fortune 500 companies, 800 high-tech companies, 180 State-level research and development institutions, 10 State-level key laboratories and 25 technology service providers.
It also has numerous high-end professionals from overseas and more than 10,000 engineers in different fields, the official said.
E-Town, with 16 industrial parks, is home to more than 10,000 companies worth a total of more than $40 billion.
The E-Town has been a major player in promoting innovation and entrepreneurship among the public.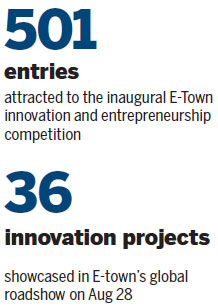 The zone is home to various industrial associations, research institutions, a "patent pool", technology trading platforms, funds and industrial parks. The six areas have formed the zone's so called strategy "Six parties, one service system", are also the highlights of E-Town's services for startups.
The zone has made great efforts to boost collaborations to help startup services, including making strategies, fostering innovation, protecting intellectual property rights and integrating resources.
Gao Yanjie, deputy head of the administrative committee of the E-Town, said: "During the 13th Five-Year Plan period (2016-2020), the E-Town is expected to become a prominent center in China's innovation with top services and amiable environment."
Services on the up
The E-Town plans to provide more opportunities and funds and more incubating channels to enterprises, he said.
The area now has 24 technology service providers, 12 incubators and 26 service providers for science companies. In Boston and Tokyo, IP service stations have been set up for E-Town firms.
To spur the growth in electronic information and pharmaceutical sectors, 105 funds were set up, with total capital worth 300 billion yuan ($47 billion).
The national-level integrated circuit fund has benefited local firms.
The E-Town committee and the local government believe that what a startup needs most are services and directions, according to the official. With support and guidance from the government, the service providers, especially incubators in the E-Town, which are mainly run by private companies, are trying to provide the best service to help startups grow.
UrWork, an incubator program that launched in E-Town in May, aims to become a "five-star nursery" for startups. Mao Daqing, founder of UrWork, said that they choose E-Town because it has a solid foundation for innovation and incubation.
UrWork is in the E-Town's Fengchuang Sciences Park, which focuses on e-commerce and the "Internet Plus" industry- the integration of Internet into traditional industries. There are now 268 companies in the park.
Ren Tong, general manager of the Jiajie Sciences Park, said the advantage of E-Town is its well-developed industrial chain, which means businesses can easily find suppliers and outsourcers.
The Mobile E-Town, another major incubator program, is focusing on mobile communications. Shi Wei, director of the Mobile E-Town program, said that an incubator that focuses on a specific industry, which creates an "intensive environment" where entrepreneurs can meet peers and like minds can trigger more innovation.
Shi said that they were exploring new ways to offer better services to businesses. The Mobile E-Town has hosted a range of innovation competitions with businesses and institutions from around the world. They are trying to provide entrepreneurs with tailored services in talent recruitment, legal and financial services.
Ankuai Entrepreneurship Valley is an incubator program that focuses on one-stop services for startups, including company registration, patent application, legal services and security and cleaning.
Zhang Haifeng, founder of Ankuai, said the incubator is also working on an education system to offer professional guides for startups.
The area provided competition finalists with free venues and other facilities, brand marketing services, as well as matchmaking fairs to find investment opportunities.
Alongside the roadshow, the E-Town has set up a fund for science and innovation with governmental investment of 1 billion yuan.
Chen Ya, the founder of MobileAnn Information Technology, pitched his business proposal to 50 investment agencies during the roadshow. He said the "weapon" that helped him through to the final round is an app that helps parents to protect their children.
The free app can show how long a child has been using their cellphone, and also sets an approved scope of activity and notifies parents when their children go beyond that.
Chen said the roadshow offered opportunities to talk to potential investors and was a platform to communicate with business peers, which was of great help to his company.
zhuanti@chinadaily.com.cn
(China Daily 09/22/2015 page6)