About 100 people from both sides of border to meet long-lost relatives in first such event since February 2014
The Republic of Korea and the Democratic People's Republic of Korea agreed on Tuesday to higher-level Red Cross talks about ways to regularly hold reunions for families separated by the 1950-53 Korean War.
The first family reunion in more than one and a half years will be held in the scenic resort of Mount Kumgang in the southeastern DPRK from Oct 20 to Oct 26, according to the ROK's Unification Ministry, which is in charge of matters related to the DPRK.
About 100 people from each side of the border will meet their long-lost relatives during the event, the first reunion since February 2014.
The chief ROK delegate, Lee Duk-haeng, confirmed that his side had requested a reunion at the "earliest possible date", but the DPRK had did not agree on the proposed date, citing its preparations for Oct 10 celebrations to mark the founding of the country's ruling party.
The ROK had called for the humanitarian event to be held before the 70th anniversary of the founding of the Workers' Party of Korea, but the DPRK had said that it preferred a date after the ceremony.
The talks came after top military officials agreed in late August to defuse tensions between the two neighbors.
"The DPRK claimed that in-depth discussions should be held at high-level Red Cross talks, and it shared the view on the need for fundamental solutions," Lee, the ROK's chief delegate and an executive committee member of the Korean Red Cross, told a news conference at the ROK Unification Ministry headquarters.
The top-level military dialogue also promised to hold intergovernmental talks in Seoul or Pyongyang to improve inter-Korean relations.
The DPRK and ROK also agreed to discuss regularly holding reunions, and other issues of mutual concern.
The ROK asked to exchange a list of all separated families and allow them to send letters and have video reunions.
Almost half of about 130,000 ROK citizens who applied for a reunion since 1988 died without a chance to meet their long-lost relatives.
About 66,000 people in the ROK - many of them in their 80s or 90s - are on the waiting list, but only a very limited number can be chosen each time.
Since the Korean War ended with an armistice in 1953, the DPRK and ROK have technically remained in a state of war, and the exchange of letters and telephone calls has been banned.
Xinhua - AP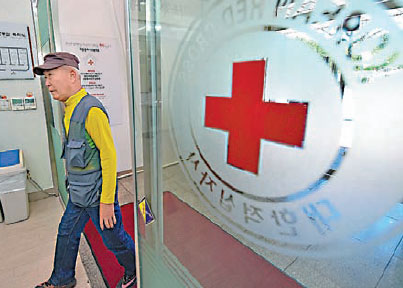 A man from the Republic of Korea who was separated from his family during the Korean War visits the Red Cross office in Seoul on Tuesday to apply for participation in a family reunion program. Jung Yeonje / Agence France-Presse
(China Daily 09/09/2015 page10)