Nearly two-dozen new sport utility vehicles presented as popularity surges in China
Sport utility vehicles are one highlight of the largest auto show in western China, which began on Saturday in Chengdu.
Twenty-three SUVs launched at the event, accounting for nearly one-third of newly launched cars. All told, 106 auto companies held more than 60 exhibitions and launched 71 new vehicles during the ongoing Chengdu Motor Show, according to organizers. The show ends on Sept 13.
"Just take a look at Chengdu, a steady growth driver for China and for western regions in particular. Even beyond China, it is recognized as one of the world's fastest growing cities," said Nicholas Speeks, president and CEO of Beijing Mercedes-Benz Sales Services Co.
Karsten Engel, president and CEO of BMW Group Region China, is optimistic about the Chinese market despite its recent slowdown.
Sales of SUVs surged in China through the first seven months, growing by 44.3 percent to 3.05 million units compared to the same period last year. That rise stands in stark contrast to the 7.58 percent drop in the sedan segment, although 6.48 million sedans were sold, more than double the number of SUVs.
Zhang Yu, general manager of Automotive Foresight (Shanghai) Co, said he expects the sales of SUVs to reach 5.3 million units by the end of the year.
"Backed by the SUV growth, Chinese brands this year have expanded their market share to 36 percent from last year's 30 percent," Zhang said.
Besides domestic brands including Dongfeng, BAIC, Haval and Changan, many international companies have also launched SUVs, such as the Mercedes-Benz GLE, BMW X6 xDrive 28i, Chery Land Rover Discovery Sport and the Hyundai Tucson.
"BMW tailor-made the X5 xDrive 28i and X6 xDrive 28i according to Chinese customers' demands for lower emissions and higher fuel efficiency. The two SUVs are powered by award-winning two-liter TwinPowerTurbo engines, ensuring that they are as dynamic as their other variants."
Speeks said two of every five Mercedes-Benz vehicles sold in China are SUVs.
Beijing Hyundai Motor's Brand Communication Director Hsueh Haochih said there is high demand and fierce competition in the SUV sector.
The carmaker launched its all-new Tucson as the market diversifies in car sizes: compact, midsize and full-size.
"The SUV market is diversifying to meet more specific needs. Many rivals have launched various SUV products and now SUV models with excellent handling and strong engine power are becoming more popular," he said.
Zhang said "the carmakers' profitability is being affected by the competition".
"Now the more affordable lower-configuration SUV models are becoming popular. For example, more than 80 percent of the Volkswagen Tiguans sold have been front wheel drive models."
Auto companies are also using celebrities to help attract more attention from visitors to their SUVs at the auto show.
On Sept 4, Taiwan singer Jay Chou helped Dongfeng Yulon Motor launch the Luxgen brand SUV U6. His presence attracted so many people that the exhibition hall seemed as crowded as New York's Times Square on New Year's Eve.
Contact the writers through duxiaoying1@chinadaily.com.cn.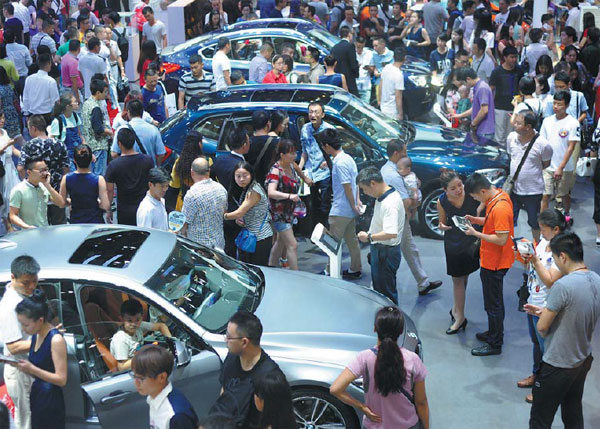 The 2015 Chengdu Motor Show opens in the capital city of Sichuan province on Sept 5. With the launch of 71 new vehicles by 106 companies, it is the largest auto show in western China. Mo Xiao / CFP
(China Daily 09/07/2015 page18)