Videographer crashes into world's fastest human after Jamaican giant's golden gallop
Only when the running stopped and the picture-taking began did Usain Bolt finally meet his match.
Bolt blew past Justin Gatlin and everyone else on Thursday night in the 200 meters to win his 10th career gold medal at the world championships.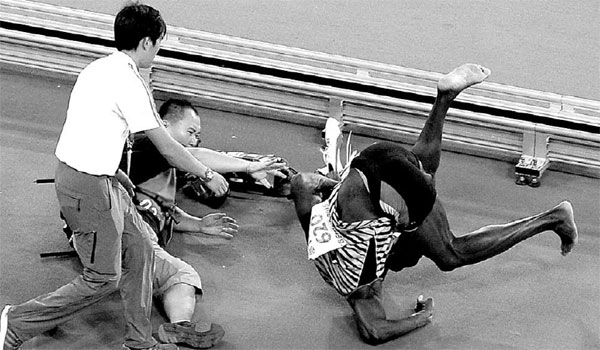 Jamaican sprinter Usain Bolt is knocked down by scooter-riding TV cameraman Song Tao after winning Thursday's 200m final at the IAAF world championships at the Bird's Nest in Beijing. Bolt was bowled over during his victory lap but was not seriously injured. At Friday's medal ceremony, Song shook hands with Bolt and presented him with a gift (below). Hu Qingming / For China Daily & Wei Xiaohao / China Daily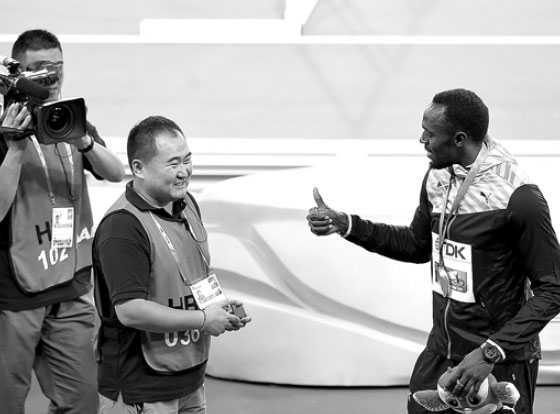 What finally upended the 6-foot-5 Jamaican was a video cameraman riding a two-wheeled scooter while filming Bolt's victory lap.
The scooter ran over the outcropping of a metal railing on the edge of the track and careened off course - then slammed into the back of the fastest two legs on the planet.
Bolt's legs went out from under him and he landed hard on his backside. Then, smooth as silk, he somersaulted backward onto his feet, jogged a few steps and reached down to make sure his left leg was OK.
He was no worse for wear - reporting just a few scrapes - but figured he'd try to make the evening at least a little more interesting.
"The rumor I'm trying to start right now is that Justin Gatlin paid him off," Bolt joked, while sitting next to Gatlin at the medalists' news conference.
Gatlin's response: "I want my money back. He didn't complete the job."
Indeed, it will take more than just a motivated opponent to finish off Bolt, who now has five gold medals at the Bird's Nest, including the three he took at the 2008 Beijing Olympics when he set world records in the 100, 200 and the 400 relay.
The split-second scare with the scooter provided what Bolt's season-best 19.55 seconds on the track did not - drama.
It was billed as the second round of the Bolt versus Gatlin series that produced the champion's grittiest win four nights earlier.
Bolt's 0.01-second victory in the 100 came despite a year's worth of injuries and off-form running that continued through the semifinals.
Like most sequels, Part II didn't live up to the original.
Running out of Lane 6, Bolt got off to a good start and worked smoothly into the curve, making up the lag to the runners to his outside and gathering steam as he headed into the turn.
Leading at the halfway point, he opened a three-stride lead over Gatlin early in the stretch, and the last 50 meters were simply for showing off.
Bolt coasted to the tape and still won by 0.19 seconds - using his thumbs to point at himself as he crossed the finish line and flashed his index finger: No 1 - just in case anyone had any doubts.
"Why I really celebrated was because Justin said earlier in the week that he was going to bring out something special for the 200 meters," Bolt said. "I was like, 'You don't talk about my 200 meters like that.'"
Gatlin came into the world championships dominating the sprints while Bolt was stuck on the sideline. The American was a favorite in the 100m, and Bolt took umbrage to the idea that Gatlin's stumble over the last 15 meters gave that race away.
"Disrespectful," Bolt called that notion. "I came out here and got it done."
Once the 200-meter heats began, Bolt started getting stronger and Gatlin, by his own admission, started feeling tired.
"I've beaten him once before, and I hope to do it again," Gatlin said about a 0.01-second victory at a meet in Rome in 2013. "He's such a showman. You've got to give it to the guy for staying at the level he stays at. That's hard to do."
Gatlin's silver added to gold medals won by two Americans - Christian Taylor in the triple jump and Allyson Felix in the 400.
Anita Wlodarczyk of Poland won the women's hammer throw with a championship-record toss of 80.85 meters (265 feet, 3 inches).
When Felix crossed the line, she tied Bolt for the most gold medals at the world championships with nine. That lasted all of about 10 minutes - until Bolt took No 10 in the night's final race.
Both sprinters are pointing toward Rio de Janeiro, where the Olympics are only 343 days away.
Something to think about: Bolt guessed if he'd pushed hard through the line on Thursday night, he could have finished in the low 19.3s. He first got there at the 2008 Olympics, when he ran 19.30 to break Michael Johnson's 12-year-old world record.
Bolt has since improved that to 19.19.
"But one of my goals is to run under 19 seconds," he said. "So if I want to run that, I have to really push myself."
For the short term, his goal is to grab another gold in the 400 relay on Saturday - then get out of Beijing unscathed.
That's not always as easy as it may seem.
After Bolt leaped up from his scary fall, he jogged back to the scooter driver to make sure he, too, was OK.
"I think he got the worst of it," Bolt said.
When on the track with Bolt, most people do.
(China Daily 08/29/2015 page11)