Samsung China Semiconductor, a subsidiary of South Korean technology-driven memory semiconductor manufacturing giant Samsung Electronics, put its test and packaging production line into formal operation in Xi'an, capital of Shaanxi province, on April 14.
Samsung Electronics now has a high-end memory chip manufacturing base in China that includes production, test and packaging in the overseas market.
It is also a milestone for Xi'an Hi-Tech Industrial Development Zone, as the zone will now have a complete semiconductor industrial chain .
"Samsung has built an advanced semiconductor production plant in China, which unites production, packaging and test facilities under one roof. The factory will be a key memory chip production base for China's information technology industry," said Kim Ki-nam, president and general manager of Semiconductor Business with Samsung Electronics.
Construction only took 12 months.
"The Shaanxi government provided Samsung China Semiconductor with strong support in the construction process. It is a good demonstration of 'Shaanxi Speed' and 'Xi'an Efficiency'," said Lee Kang-kuk, South Korean consul-general in Shaanxi.
The first phase, which is a chip production line, was put into operation in May 2014. Total investment for that first phase was $7 billon. The project has three phases, according to Samsung China Semiconductor.
This semiconductor manufacturing base will mainly produce solid state drives based on 3D vertical NAND flash memory technology, according to Samsung China Semiconductor. Samsung Electronics has a strong position in the world's solid-state drive business and occupies the largest market share.
Samsung Electronics introduced the first generation of SSDs to the market in 2007 and is sparing no efforts in promoting the product to the general public.
"The Xi'an plant will produce SSDs based on 3D V-NAND technology, which will make SSDs available to more of the general public," said Kim.
As one of the top semiconductor manufacturers, Samsung Electronics has a production base in Hwaseong in South Korea. The company also runs two test and packaging centers in Onyang, South Korea, and Suzhou, China.
Industrial cluster
Authorities of the Xi'an Hi-Tech Industrial Zone have spared no effort to attract world-leading semiconductor giants to set up plants in the zone in the past decade.
In the past few years, the high-tech zone successfully attracted many semiconductor giants including Micron Technology and Applied Materials.
The completion of Samsung China Semiconductor's new production line suggests the high-tech zone will have a semiconductor industrial cluster worth hundred of billions of yuan. Industrial experts said Xi'an is one of the most competitive electronic information bases in China.
"China is promoting its 'One Belt and One Road' program to strengthen ties with foreign markets," said Lou Qinjia governor of Shaanxi province. "Shaanxi will become a core in this program and will have better development. The new production line completion makes us confident that Shaanxi can keep stable economic growth under the 'new normal' economic conditions.
"We will continue to better serve all enterprises in Shaanxi including Samsung China Semiconductor and create a better business environment.
Lee said: "In the past, we visited Xi'an to better understand ancient China. We visit Beijing to witness the development of China. We visit Shanghai to see the future of China. However, Samsung's huge investment plan and China's 'One Belt and One Road' program make us believe Xi'an not only represents China's history but also China's future."
Experts said Samsung's investment in Xi'an would improve the city's awareness of the global market and accelerate the city's opening-up. It will also have a significant impact in helping the city seek structural change and strengthen its position in the electronic information industry.
tangzhihao@chinadaily.com.cn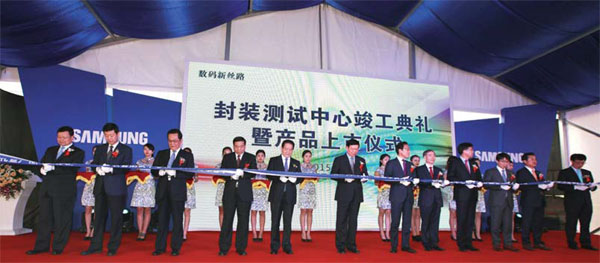 Guests cut a ribbon to open Samsung's new production base in Xi'an.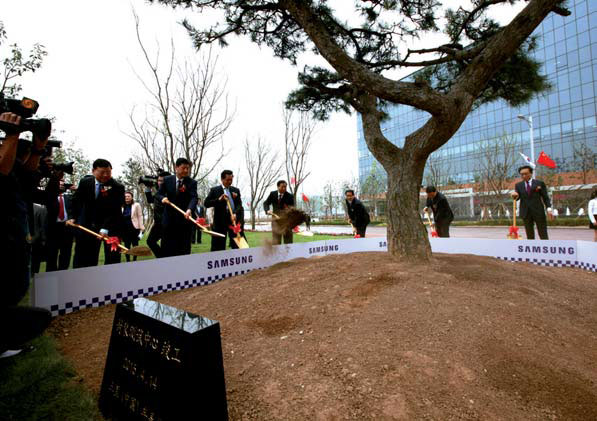 Local government leaders and Samsung officials plant a pine tree to mark the opening. Photos Provided To China Daily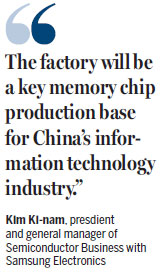 (China Daily 04/27/2015 page15)