Land Rover: On the journey, always with customers
Land Rover, the world's leading manufacturer of premium SUVs will celebrate the 45th anniversary of its iconic Range Rover at the auto show by revealing the 6 millionth of the category defining vehicle - a Range Rover Vogue SE Long Wheel Base. Range Rover, which combines superior all-terrain capability with top-level refinement, has been a pillar of the British automotive industry for the past four decades.
"Together with the Discovery family and the dual-purpose Defender family, Range Rover demonstrates all the hallmarks of the Land Rover pedigree: World-leading design, performance, luxury and capability. Land Rover will spare no effort as we continue to try to meet Chinese customers' expectations," said Mark Hall, executive vice president of Land Rover China.
The brand's commitment was once again on display at the reveal of the Range Rover Sport SVR.
As the fastest and the most powerful model that Land Rover has ever produced, it is the first to carry the SVR designation, which will be adopted for high-performance Land Rover and Jaguar models in the future.
The SVR has a revised chassis and high-performance tires, providing an exhilarating driving experience while retaining Land Rover's class-leading all-terrain capability. The SUV's active exhaust provides a thrilling V8 soundtrack.
The SVR was created by the company's newly formed Special Vehicle Operations unit, whose remit is to create high-end luxury bespoke commissions and extreme performance vehicles.
Meanwhile, the China-built Range Rover Evoque, was also prominently featured at the auto show in a demonstration of Land Rover's long-term commitment to China. The local Evoque inherits the Range Rover's historic British lineage, which can be seen in its distinctive design, contemporary interior and all-terrain capability.
In the near future, two more Jaguar and Land Rover vehicles will be produced by 2016 at the Changshu plant - Jaguar Land Rover's first overseas manufacturing facility with a production capacity of 130,000 units a year.
Contact the writers at gongzhengzheng
@chinadaily.com.cn and yangcheng
@chinadaily.com.cn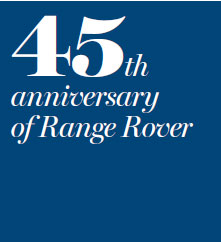 (China Daily 04/20/2015 page23)
Today's Top News
Editor's picks
Most Viewed