Saudi Arabia bombs Shiite stronghold
Pakistan considers whether to support multination coalition
Saudi Arabia bombed the northern stronghold of Yemen's Shiite rebels and other key military installations on Friday as a coalition led by the Gulf kingdom carried out air-strikes for a second day.
The military action is turning impoverished and chaotic Yemen into a new front in the rivalry between Sunni heavyweight Saudi Arabia and Shiite power Iran, which supports the rebels known as Houthis.
Heavy airstrikes early on Friday targeted Saada, the stronghold of the Houthis, focusing on locations where rebel leader Abdul-Malik al-Houthi might be, military officials said. Saudi warplanes also bombed the al-Sana army camp in the Arhab region northeast of Sanaa, run by commanders loyal to former President Ali Abdullah Saleh.
The military official said other strikes targeted army camps outside Sanaa in al-Dhale and Lahj provinces, including al-Annad base, where about 100 US military advisers had been based but were forced to withdraw last weekend due to deteriorating security conditions.
The military officials spoke on condition of anonymity as they were not authorized to brief reporters.
Also on Friday, Pakistan's defense minister said his country has made no decision on whether to give military support to the Saudi-led coalition in Yemen. Khawaja Asif said Pakistan will defend Saudi Arabia against any threat to its solidarity.
Pakistan's Foreign Office said on Thursday it was considering are quest from Saudi Arabia to send troops to Yemen.
"We have made no decision to participate in this war. We didn't make any promise. We have not promised any military support to the Saudi-led coalition in Yemen," Asif told parliament.
In the Yemeni capital of Sanaa, heavy airstrikes came in waves throughout the night. Explosions rocked the city and anti-aircraft guns were heard returning fire. At least 18 civilians, including six children, have been killed, and the casualty count was expected to rise.
Saudi Arabia and fellow Sunni-led allies in the Gulf and the Middle East view the Houthi takeover as an attempt by Iran to establish a proxy on the kingdom's southern border. Iran and the Houthis deny that Teheran arms the rebel movement, though it says it provides diplomatic and humanitarian support.
Iran has denounced the Saudi-led air campaign, saying it "considers this action a dangerous step".
Yemen's US-backed president, Abed-Rabbo Mansour Hadi, was in Saudi Arabia's capital of Riyadh after he fled the country by boat on Wednesday.
Rebel leader al-Houthi has accused the United States, Saudi Arabia and Israel of launching a "criminal, unjust, brutal and sinful" campaign aimed at invading andoccupying Yemen.
White House spokesman Eric Schultz told reporters that US President Barack Obama had authorized logistical and intelligence support for the strikes, but that the US is not participating in direct military action.
In the air assault codenamed "Operation Decisive Storm", Saudi Arabia deployed about 100 fighter jets, 150,000 soldiers and navy units, Saudi-owned Al-Arabiya TV reported. Also involved were aircraft from the United Arab Emirates, Bahrain, Qatar, Kuwait, Jordan, Morocco, Sudan and Egypt, though it was not clear which carried out actual strikes.
AP - Reuters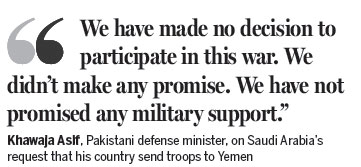 (China Daily 03/28/2015 page11)
Today's Top News
Editor's picks
Most Viewed