Swiss engineers cooperated with China to deliver high-tech buildings that battle the problems of living in polluted urban areas in Asia.
Swiss Active Power buildings offer a healthy, positive living environment at a reasonable price and meet the need for cleaner energy. The buildings are the result of close international cooperation.
According to the building's developers, Adaxis AG, the structures reduce air pollution by using renewable energy and providing clean electricity for e-mobility.
Switzerland is known for its clean air, pure water and idyllic landscapes but 40 to 50 years ago the nation faced its own environmental issues.
The country's environmental quality and diversity is the result of consistent use of systematic planning and engineering and the development of cutting edge technology. The Swiss construction sector provides leading technology for the international market. Swiss small and medium enterprises are known as some of the most innovative in the world.
Following the Sino-Swiss Free Trade Agreement more and more Swiss companies are looking to cooperate with Asian partners. The Swiss Centre Shanghai, which was founded by Nicolas Musy 20 years ago, has helped more than 100 companies establish businesses in China. Under the lead of Swiss real estate development company Adaxis AG, a group of investors are setting up projects in China to promote cooperation and development in the construction sector.
Urban stress
The rapid growth of cities in China has led to a dramatic increase in traffic. Research shows that buildings are responsible for 40 to 45 percent of total energy consumption in modern urban areas.
China's leadership has focused on replacement of fossil energy with renewable energy sources and on the overall reduction of energy use per capita. Modern Swiss Active Power buildings are an efficient way to achieve both goals. According to the building creators, by using intelligent system integration, consistent application of renewable energy and the use of sustainable material the buildings provide a healthy living environment, cleaner air and more sustainable mobility.
Zero energy concept
The Swiss Green Tower is a sustainable office block concept based on zero energy standards. The project is in the greater Shanghai region and offers 20,000 square meters of office space, training facilities and commercial areas, which Adaxis AG said have a healthy and sustainable environment. A Swiss Green Village is the next generation of residential developments with plus energy standard.
Residents can charge the batteries of their e-scooters and s-cars overnight using solar energy provided at their homes for free. Adaxis AG is developing the residential project in the Zhenjiang New Area in the neighborhood of the Sino-Swiss Zhenjiang Ecological Industry Park.
Cooperation
Adaxis AG believes cooperation in research, development, trade and investment must be supported by an innovative, high-end building at the center of decision making in China.
When complete, the Swiss House Beijing will be the largest plus energy development in Asia. The Adaxis AG team established a consortium with a group of leaders under the strategic chair of the Ambassador of Switzerland to China Jean-Jacques De Dardel.
This group is currently developing the Swiss House Beijing with potential partners in the capital and in Europe.
The new building will be a tribute to traditional Chinese architecture and aesthetics and will use cutting edge technology of modern intelligent buildings.
zhuanti@chinadaily.com.cn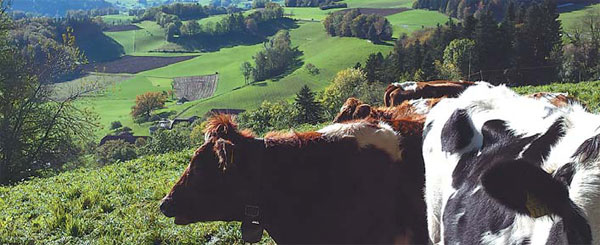 Switzerland is known for its clean air and picturesque landscapes. Photos provided to China Daily
(China Daily 01/23/2015 page7)