Game, set and match as Li Na calls it quits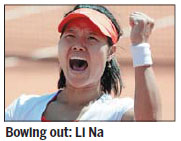 A farewell letter from tennis ace Li Na announcing her retirement ended speculation about her future on Friday.
Although the 32-year-old has been unable to overcome a severe knee injury, the two-time Grand Slam winner's achievements have brought her widespread and lasting acclaim.
"It's a great pity (that Li is retiring)," said Xiao Tian, deputy director of China's State General Administration of Sport. "We respect her decision and wish her well for the future."

Today's Top News
Editor's picks
Most Viewed