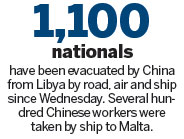 More countries have closed embassies and evacuated their nationals from warring Libya as the security situation continues to deteriorate.
In the latest violent incident on Wednesday, a Libyan special forces base in Benghazi fell into the hands of Islamist militants after a weeklong battle. The special Thunderbolt force was evacuated from its main camp in southern Benghazi.
Fighters of the Shura Council, one of the armed groups in the coalition of Islamist fighters, took the main camp and several other army strongholds and vowed to hunt down the remnants.