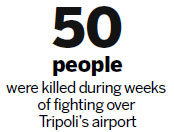 Heavy black smoke rose over southern Tripoli on Thursday after rival militias exchanged artillery and rocket fire in a battle over the Libyan capital's airport that has killed around 50 people in weeks of fighting.
Sporadic blasts echoed across the city since the morning in clashes that have deepened fears of postwar Libya becoming a failed state, with a fragile government unable to control heavily armed brigades battling for power.
Fighting in the capital and the eastern city of Benghazi, its heaviest since the 2011 war that ousted Muammar Gadhafi, has led most international flights to Libya to be canceled and prompted the United States to pull out its embassy staff.