Auto special: BMW tries to seize luxury market with 5 Series Li
BMW recently launched the new 5 Series Li in China, a Life Cycle Impulse model of the premium executive sedan, which is now in its sixth generation.
Made at the local joint venture between BMW and Brilliance Auto, the model has an extended wheelbase compared to analogous models in other markets, which is why it is called the Li.
The car has a new front look, with additional contour lines surrounding the grille and lower air intakes that further underline its sporty appearance. Other new features include adaptive LED headlights and fog lamps.
Customers can choose either the Luxury Line, which features chrome trim in many parts of the car to reinforce the elegant style, or the Modern Line with matte decorations that add a fashion touch.
BMW offers its latest intelligent ConnectedDrive technology on the new 5 Series Li to provide convenient Internet access and advanced driver assistance on the car.
The iPhone's Siri voice control function is for the first time incorporated in its ConnectedDrive system. Many other applications that are popular with Chinese smartphone users are also available on the car now.
The new 5 Series Li has three engine options - 2.0 liter TwinPower Turbo four-cylinder engine, 3.0 liter TwinPower Turbo six-cylinder and 3.0 liter naturally aspirated six-cylinder - all of which are award-winning BMW products.
The car is the first in its segment to be equipped with an eight-speed automatic transmission as standard, allowing it to achieve extraordinary shifting performance and fuel efficiency.
The idea of customer orientation is very important for BMW, said Olaf Kastner, president and CEO of BMW Brilliance Automotive Ltd, the local joint venture.
"As the market moves, the customer demand moves. What pleased them two years ago might not please them today. They expect that you go with time," he said.
"This is what we have done, and I am very confident that this new 5 Series Li will continue its success story."
BMW began to make the long-wheelbase 5 Series sedan in China in 2006. The local product went through a generational update in 2010, when the overseas model entered its sixth generation.
For any carmaker, it is not easy to make a smash hit model in a competitive market and to sustain the success is even harder. But BMW has managed to make its 5 Series a product with lasting popularity globally, especially in China.
Since the current generation went on sale in 2010, delivery of the 5 Series has totaled more than 1 million units worldwide, and in China, the figure has exceeded 250,000. Now the average monthly sales of the 5 Series in the country is above 10,000 units and is still on an upward trend.
The carmaker also produces the 3 Series sedan and the X1 SAV at its local joint venture in Shenyang, Liaoning province.
It makes both the standard-wheelbase and long-wheelbase 3 Series in China, an "excellent decision", Kastner said. Combined sales of the two models total nearly 7,000 units per month, with the long-wheelbase version accounting for a bit more than half.
Sales performance of the X1 has been so strong that the company currently cannot produce enough to meet the market demand, he said.
The company is ramping up production at its facilities and by the end of this year, combined capacity of its two vehicle plants in the northeastern city of China will reach 300,000 units a year, he said.
A new engine plant is now under construction there and is set to be operational in 2016.
The aggressive expansion anticipates an expected boom in premium car consumption throughout the country, although the market has slowed down from the torrid pace of between 40 to 70 percent growth in previous years, Kastner said.
This year the premium car market will see growth in the low double digits, but compared to the rest of the world, the market here is growing at a fast pace, he said.
He said China's middle-class population is growing rapidly, among whom there's huge potential in consumption of premium cars.
Another indicator he provided is that premium car sales now account for about 9 to 10 percent of the overall car market in China, while the proportion is around 13 to 14 percent in the West.
"Both the growth in the customer base and in the share of premium car consumption together give us confidence that there will be growth," he said.
Despite the positive outlook, competition in the local market is increasingly fierce now that almost all the premium car brands have a presence here now.
The three dominant German premium brands still hold the majority of China's premium car market, but enterprises from other parts of Europe as well as the United States and Japan are eagerly seeking to expand their territories.
Kastner said that he is aware of many stories of brands - not only in the auto industry but also in other sectors - that were once very successful but eventually failed to remain competitive.
"The market moves fast, and there are people coming up who are not even well known in the industry before, and they take your market share away," he said.
"We are working very hard so that this will never happen to us."
He said that the company will not be complacent but will keep climbing.
"Product launch is a start instead of an end. We must always make efforts to provide customers better products and services. This is what keeps you successful."
hantianyang@chinadaily.com.cn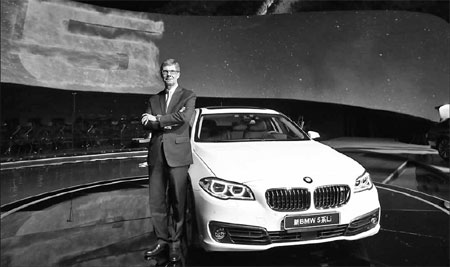 Olaf Kastner, president and CEO of BMW Brilliance Automotive Ltd, poses next to the 5 Series Li at the launch ceremony for the new model in Beijing. Photos Provided to China Daily
(China Daily 09/30/2013 page11)
Today's Top News
Editor's picks
Most Viewed