GDP slowdown, IPO freeze chill equity investment firms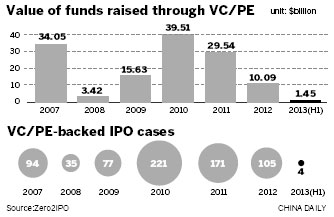 The Chinese private equity and venture capital markets have faltered amid a weakening economy and a freeze on initial public offerings.
In the first half of 2013, only $7.83 billion was raised by equity investment funds related to China, marking the first decline in investable funds into the mainland market from this sector, according to a report from Zero2IPO Research Center.
The report said 516 deals were made in the first half of the year, down 45.2 percent year-on-year. value of the deals fell 20.9 percent to $9.9 billion.

Today's Top News
Editor's picks
Most Viewed