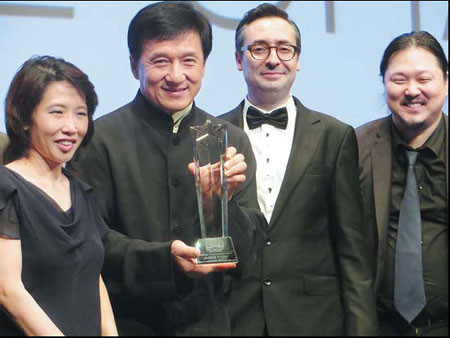 Representatives of the New York Asian Film Festival, the Film Society of Lincoln Center and the Hong Kong Economic and Trade Office in New York present Hong Kong film star Jackie Chan with NYAFF's Star Asia Lifetime Achievement Award in New York on Monday. Caroline Berg / China Daily
Actor-director-producer plans to focus more on substance, less on action
The crowd waited in line in the rain all afternoon for a chance to see him. It's not every day that a legendary Hong Kong movie star lands in New York.
On Monday evening, the 268-capacity Walter Reade Theater at the Lincoln Center for the Performing Arts overflowed with fans and members of the media who gathered to see film icon Jackie Chan receive an award, hear him discuss his career during a live interview and watch his 2012 film Chinese Zodiac.
"All my life, I have been making all these movies, and they are very, very important to me," Chan, 59, said before accepting the New York Asian Film Festival's Star Asia Lifetime Achievement Award. "I am still very young."
The ceremony was held to help kick off a retrospective of Chan's films, from June 23 to 27, and the 12th New York Asian Film Festival, from June 28 to July 15, at the Walter Reade Theater and Elinor Bunin Munroe Film Center at Lincoln Center, the Japan Society and the Asia Society in New York.
"When we talk about Hong Kong culture, Hong Kong movies usually come to people's minds," Anita Chan, director of the Hong Kong Economic and Trade Office in New York, said during a reception at Lincoln Center before the ceremony.
"Not only are Hong Kong movies one of our greatest exports, but they are also our cultural ambassadors," she said to a group of more than 200 business leaders and dignitaries who traveled from Hong Kong, the Chinese mainland and elsewhere in the US to attend the reception.
Hong Kong has one of the largest film industries in the world, ranked first in Asia and third behind Iceland and Estonia in the world's per capita film production in 2011, according to statistics by Screen Digest and the International Monetary Fund.
"Hong Kong has much to be proud of and much still to achieve," Hong Kong Chief Executive Leung Chun-ying said during the reception. "Today, cultural and creative industries are identified as one of our most promising and emerging economic sectors."
With a population of more than 7 million and a land mass of 1,104 square kilometers - one-third the size of Rhode Island - Hong Kong boasts more than 36,000 cultural and creative industry-related businesses that employ close to 200,000 people and contribute 4.7 percent of Hong Kong's GDP, according to Hong Kong government research. In 2011, Hong Kong released 56 locally produced films and earned about $37 million in total film exports.
Chan, who has appeared in more than 150 movies, said he prefers directing movies because he has greater freedom in the production process. Prior to his appearance in New York, Chan spent a week with producers in Los Angeles to discuss a script he has been working on for 12 years.
The actor-director-producer was also in LA to replace his hand- and footprints in cement at Hollywood's Chinese Theatre, after his previous prints from 1997 were lost.
Although representatives of the newly named TCL Chinese Theatre, previously Grauman's Chinese Theatre, said they did not know when the prints vanished, they said they were sure the slab was not stolen. Slabs are often changed to make room for new entries in the collection.
In New York, the Chinese filmmaker said he hopes to leverage his fame for more opportunities to educate audiences through his films.
"I always tell my friends that as a director, a producer and an actor, we have a responsibility to the world, to society," Chan said. "We have to be very careful about what kind of films we make because people learn from films."
Chan said he really became aware of his power to influence viewers when he was in a small village in South Africa, where he was shooting the 1998 film Who Am I? While out for a run, a group of roughly 100 children followed, karate chopping the air and stumbling around like Chan's character in his 1978 film Drunken Master.
"I said to myself, 'I have to be very careful,' because so many people learn from me," Chan said. "I wonder, why do I teach people to drink and fight?"
He said he wants to shed fighting onscreen to focus more on drama with substance.
"I don't want to do just action or comedy anymore," Chan said. "I want to talk about world problems [in my films] and how we can together solve these problems."
carolineberg@chinadailyusa.com
(China Daily 06/13/2013 page10)