Mandela spends fourth day in hospital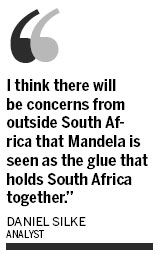 Nelson Mandela was spending his fourth day in hospital on Tuesday where he is being treated in intensive care for a lung infection.
The 94-year-old former president was rushed to a Pretoria hospital early on Saturday and was said to be in a serious but stable condition.
His latest health scare has been met with prayers and a growing acceptance among South Africans that their hero may be nearing the end of his life.

Today's Top News
Editor's picks
Most Viewed