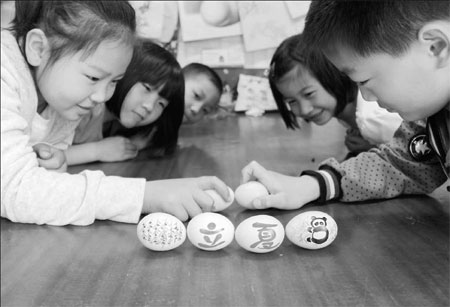 Children at an arts training center in Yunxian county, Shiyan, Hubei province, play an egg fighting game on May 5, the day summer begins. Cao Zhonghong / for China Daily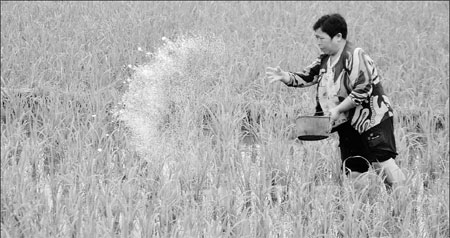 A farmer in the Guangxi Zhuang autonomous region tends a rice field on May 21, the day of grain buds. Meng Zengshi / for China Daily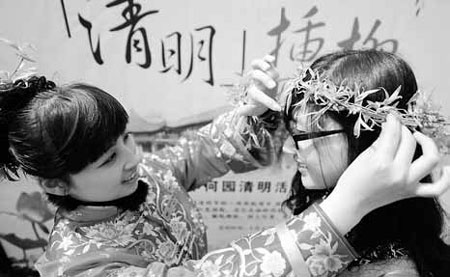 People in Yangzhou, Jiangsu province take part in the traditional activity of wearing willow branch hats on April 4, the day of clear and bright. Meng Delong / for China Daily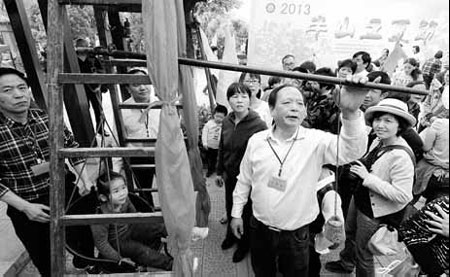 People take part in a festival, at a forest park, in Hangzhou, Zhejiang province, on May 5, the day summer begins. Li Zhong / for China Daily
The ancient system of dividing the year according to solar themes is being used by businesspeople to boost sales
"Lychees for June 5; cherries for June 21; waxberries for July 7," intoned Wang Lanzhi, a 46-year-old Shanghai housewife, as if reciting a poem. This routine has been directing her purchases and use of fruit for decades, she said.
For Wang, food shopping is not dictated by price. Instead, the zodiac rules what she eats every fortnight of the year.
Like buying carnations on Mother's Day or roasting a bird near the end of the year, buying roasted green tea during the guyu period in mid April,which is also known as "grain rain", and making plum syrup on xiazhi, or summer solstice, is essential for Chinese who follow an annual cycle of 24 solar periods.
The Chinese initiated the system as early as 2,000 years ago, and it has now blended with modern lifestyles.
The zodiacal cycle is divided into 24 segments, each lasting roughly two weeks. In the lunar calendar, the date of each solar term is more or less fixed, apart from minor changes of a day or so.
"The 24 solar periods were determined by changes in the sun's position throughout the year, so the system is based on the duration of sunlight per day, temperature, humidity and other factors affecting the cultivation of grain, vegetables, fruit and breeding of livestock. They also determine outdoor activities and indoor entertainment," said Wang.
Smartphone apps
Smartphone application developers have launched apps to help users identify the correct solar period, what to eat or use and the type of entertainment that accords with any given period within the cycle.
"For many young people who spend most of their working day indoors, it is really difficult to sense the change of season and time, and this electronic reminder tells us not only how to identify that, but also what to observe during time changes, the extended or shortened periods of sunlight, falling leaves or blooming flowers," said Zhu Ting, a 29-year-old accountant.
Zhu has three apps on her smartphone related to the 24 solar terms. They provide a comprehensive guide to leading a healthy and fulfilled life.
One app focuses on dining, another on workouts and a third on the natural scenes to see during the two-week cycles.
In Wuhan, Hubei province, 22-year-old Hu Cheng has noticed the business opportunities offered by the 24 solar periods. During the past 12 months, the marketing graduate has taken more than 2,000 photos of his college campus and has sorted 24 of them into an album.
"Many residents complain about the city's climate - the four seasons are not divided obviously. Temperatures can drop more than 10 degrees within 24 hours. People have called Wuhan 'an irregular city," said Hu.
However, he has observed the golden leaves, rapid snowfalls, dazzling sunlight and powerful downpours during the four seasons. His knowledge of the 24 solar periods has helped him notice differences in the natural world from day to day.
"I would like to use the photos to make a series of postcards - they would be a nice record of my college days and also help people identify the natural cycle of days in the city," said Hu.
Business opportunities
The themes of the 24 solar periods have also become a marketing tool for department stores and online retailers, who try to recommend tailor-made products to potential customers.
"Western festivals, such as Valentine's Day and Thanksgiving, are important times to boost consumption. Similarly, the solar terms are helpful in selling seasonal products," said Luo Shujuan, a 26-year-old beauty consultant at a department store on Nanjing Road, one of the busiest streets in downtown Shanghai.
"The change in solar periods usually results in changes in demand for skincare products. If you have an insight into these delicate shifts from days that are humid but not too hot, to those that are scorching, dry-and-cool to freezing, it is much easier to understand the products most helpful to consumers," said Luo.
Like many of her peers, Luo comes from a family that relied on farming as its major source of income. The 24-solar-term cycle feels "embedded in my mind", said Luo.
"It's traditional wisdom, based on long-time observations. It helps people to understand the best times for sowing various vegetables and grains, irrigating the land, and harvesting the produce. I use the same principles to provide skincare advice to customers, because the fundamental idea behind it is to do the right thing at the right time," said Luo.
Guidance
An increasing number of consumers are seeking guides that provide more information on the traditional art of "living in accordance with the times". Books and photo albums detailing the 24 solar periods are among the most popular guides.
Xiao Yuan, a backpacker who has been traveling around China since 2007, said he has visited Hangzhou, the capital of Zhejiang province, more than 20 times, because he read a book about the 24 solar periods in the city.
"It is amazing that the food, the people, the scenic spots are all so different during the different phases of the year," said Xiao.
Usually travel guides list the most popular sightseeing spots, based on the demands of the travelers - be they zealous shoppers, theatre-goers, adventurers, or just someone who favors sleeping in a cozy bed at a resort hotel.
"Seeing a city in a different light, within the frame of time changes, brings something new to traveling. You don't need to boast, 'Look, I've been to 200 cities.' Instead, you can say 'I've seen 24 faces of the same city,'" said Xiao.
For example, the best time to visit the Manjuelong area in Hangzhou, is around qiufen, the autumnal equinox, when sweet-scented osmanthus flowers are in full bloom. Nothing feels better than sipping green tea amid the sweet fragrance of osmanthus, under the silver moonlight, said Xiao.
Miao Sihui, a consultant with Shanghai-based Siyuan Consultancy said the market strategy based on the 24 solar periods is smart and draws on people's psychological needs.
"Nowadays people have a stronger desire than ever to get close to nature and share genuine interpersonal relationships. Consumption during the 24 solar terms mirror those urges precisely," said Miao.
Solar-term related consumption can help people to connect with changes in the zodiac. The resultant consumption is mainly about caring for people in intimate relationships, such as family members, and don't focus on exuberance. Rather, the focus is "in accordance with the natural environment", said Miao.
Another nice selling point about solar-term themed marketing is that it provides 24 opportunities every year.
"Twenty-four is a big number, and it runs in a cycle. You can do it throughout the year, and it helps to cultivate frequent visitors," said Miao.
wuyiyao@chinadaily.com.cn
(China Daily 06/10/2013 page9)