BRICS bank holds promise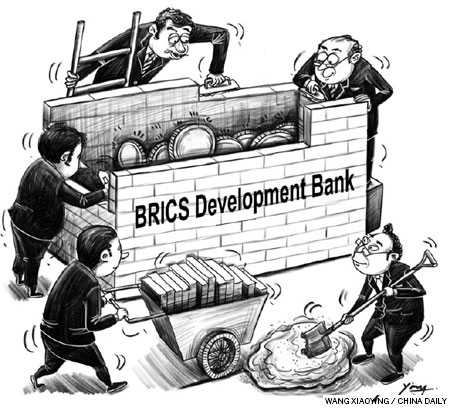 The feasibility of establishing a development bank and currency reserve is expected to be hot topics of discussion at the BRICS summit in Durban, South Africa, on March 26 and 27. Developmental financial cooperation has become an important issue for BRICS member states, especially for Brazil, Russia, India and South Africa, because they need an economic impetus to overcome their infrastructural bottlenecks to ensure sustainable development.
China Development Bank is expected to serve as a model for the proposed "BRICS Development Bank". The discussion is likely to focus on infrastructure construction and financing for basic industries, because inadequate or poor infrastructure has been hampering the economic and social development of many developing countries and regions, including some BRICS member states.
The unprecedented power outage in India from July 30 to Aug 1 last year underlined the weakness of the country's infrastructure. And a World Bank report in 2012 ranked Brazil's infrastructure 104th among 142 countries in terms of competitiveness. Also, 90 percent of Brazil's railway lines were built in the late 19th century and early 20th century on which trains can run at an average speed of 40 kilometers an hour.

Today's Top News
Editor's picks
Most Viewed