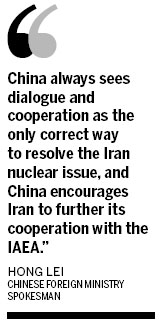 China supports cooperation between Iran and the International Atomic Energy Agency to solve the country's nuclear issue, the Foreign Ministry spokesman said on Friday.
He was responding to the Teheran plan to increase the pace of uranium enrichment.
"China always sees dialogue and cooperation as the only correct way to resolve the Iran nuclear issue, and China encourages Iran to further its cooperation with the IAEA," spokesman Hong Lei told reporters at a routine press conference.