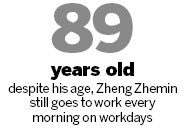 Zheng Zhemin, one of the two members of the Chinese Academy of Sciences and the Chinese Academy of Engineering who won the State Top Scientific and Technological Awards on Friday, has been called a legend of explosives in China.
As a scientist who specialized in explosive mechanics, he made a significant contribution to the field. Because of his help, China's armor development has been greatly improved.
Zheng, 89, also known as Cheng Chemin, obtained his Bachelor of Science degree from Tsinghua University in 1947, and earned his Master of Science and PhD from the California Institute of Technology under the guidance of Qian Xuesen, also known as Hsue-shen Tsien.