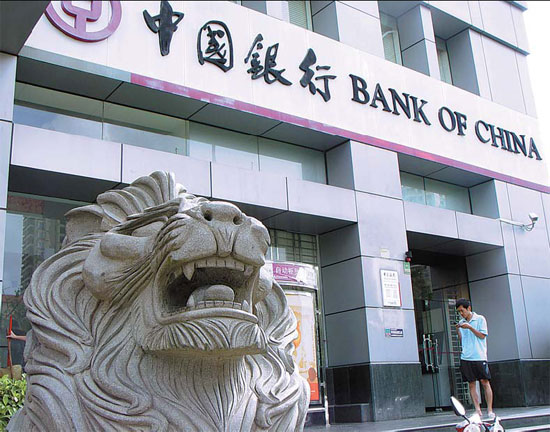 A Bank of China Co Ltd outlet in Haikou, Hainan province. According to data from the China Banking Regulatory Commission, all types of banks saw an increase in non-performing loans, including major State-owned lenders, rural banks and foreign banks. Shi Yan / For China Daily
Third-quarter figure increases to 478.8b yuan, watchdog says
Non-performing loans, or NPLs, among Chinese lenders have increased for four consecutive quarters - the longest period of asset-quality deterioration since 2004, when authorities began to release such figures.
Data from the China Banking Regulatory Commission on Thursday showed soured loans rose by 22.4 billion yuan ($3.6 billion) from July to September, to 478.8 billion yuan.
All types of banks saw an increase in bad loans, including the major State-owned lenders, joint-stock banks, rural banks and foreign banks.
"It was predictable since last year that both bad loans and the NPL ratio would jump in 2012 on slower economic growth, and banks set aside enough provision to cover bad loans," said Guo Tianyong, banking research director at the Central University of Finance and Economics.
The NPL ratio against total outstanding loans stood at 0.95 percent by the end of September, up by 0.01 percentage point from three months earlier.
Liu Yuhui, director of the financial lab at the Chinese Academy of Social Sciences, said it is hard to measure how big the risks are, given that banks still have great flexibility when classifying loans. Thus, the figures might not be reliable.
According to a report released by the China Orient Asset Management Corp, new bad loans will increase 10 percent this year from 2011.
Wang Kang, general manager for financial planning at China Citic Bank, said bad loans among lenders would continue to rise, as some small and medium-sized enterprises continue to face challenges amid an uncertain economic rebound.
China Banking Regulatory Commission Chairman Shang Fulin said on Sunday during the 18th National Congress of the Communist Party of China that the banking system's risk is under control and the NPL ratio remains at a low level.
Bank lending is not concentrated on any high-risk investment projects, and most of the loans have mortgage guarantees, he said.
Hu Bin, vice-president and senior analyst at Moody's Investors Service, said he does not expect a sharp fall in banks' asset quality and profitability over the next 12-18 months.
Given that China will still realize above-target growth, banks have already taken measures to restructure and monitor loans to local government financial vehicles, and authorities will introduce gradual regulatory changes, the risks will be well contained, he said.
In October, banks were ordered to start a new round of investigations into lending risks as asset quality continues to deteriorate.
Media reports in October said banks are reviewing their loans to industries such as manufacturing, wholesale and retail, property, construction, transportation, electricity and gas, and water supply.
Shang has urged banks to step up efforts to collect loans and write off bad loans, saying credit risks have started to become exposed in certain industries.
But analysts say a drop in commercial bank profit growth this year, triggered by the squeeze on interest margins as the central bank further liberalizes interest rates, might dampen lenders' capacity to write off more bad loans.
wangxiaotian@chinadaily.com.cn
(China Daily 11/16/2012 page15)