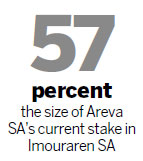 Areva SA, the French nuclear group, is expected to reach agreement soon on the sale of a 13 percent stake in its Niger-based uranium mining operation Imouraren SA, to China Guangdong Nuclear Power Holding Co Ltd, according to French media reports on Thursday.
The likely deal - for "several hundred million euros"- will allow the Chinese company to gain access to the world's second-largest uranium reserves with a planned production of 5,000 metric tons of uranium per year, reports said.
Areva currently owns 57 percent of Imouraren while the remaining 43 percent is held by Niger, and an investment consortium led by South Korea.