Haute Italian with color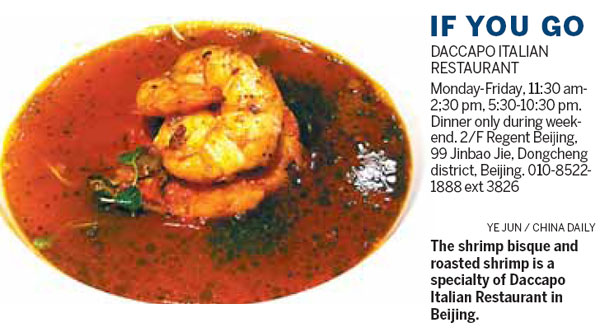 To stand head and shoulders above the many good Italian restaurants in Beijing, the food must be truly exceptional - and memorable. During a recent visit to Daccapo, the Italian restaurant at the Regent Beijing, I went away with clear memories of two dishes.
One was the shrimp bisque and roasted shrimp, which more than matched the best seafood I had tried in Italy. It had that fresh sea taste that makes you go "wow" and think, "that's how seafood should be".
The other dish was a Boston lobster salad, with orange jelly and edible flowers. The tender lobster is presented on a canvas of herbs and vegetables, artistically placed on a bed of orange gelatin.

Today's Top News
Editor's picks
Most Viewed