Shale gas fever develops as firms see a new gold rush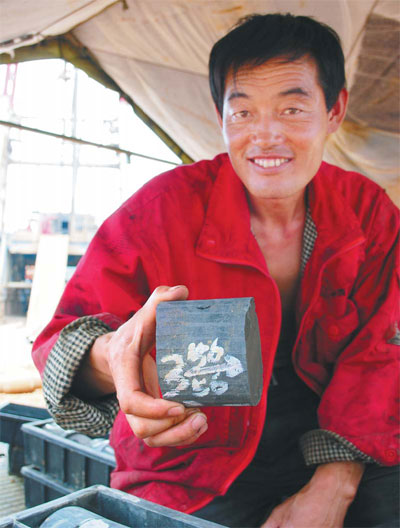 A Sinopec worker holding a rock sample extracted from a shale gas well in Cengong county, in Southwest China's Guizhou province. The well, which is 2,067.85 meters deep, is estimated to have the capacity to produce 100,000 cubic meters of shale gas a day for commercial use. Hu Yan / For China Daily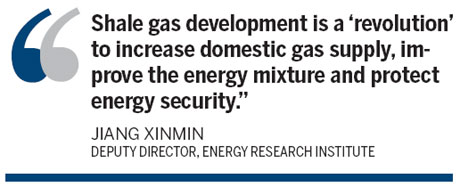 Unconventional energy source is proving to be attractive outside the sector as well
With China having put shale gas near the top of the government agenda for energy security concerns, the scramble for this game-changing unconventional gas is gathering momentum.
The Ministry of Land and Resources said that more than 70 companies have shown their interest in participating in the country's much talked about second tender for domestic shale gas blocks, which is estimated to kick off this month or next.
China opened four blocks for the first round bidding to selected State-owned companies last June. China Petroleum & Chemical Corp and a provincial coalbed methane company won the bid for two blocks.
Compared with the first auction to test the water, the second one may offer about 17 blocks, located in areas including the provinces of Hunan and Anhui, for bidding, said Jiang Xinmin, deputy director of the Energy Research Institute, a think tank of the National Development and Reform Commission.
The ever-growing shale gas fever in China, buoyed by the United State's revolutionary breakthroughs in the sector, has turned the new sector that has yet to take off into a new gold rush for companies in the country.
Even domestic property companies, which have generated the biggest number of billionaires in recent years before they started wobbling on the government's tightening policies, are considering seeking a share.
Li Jun, board secretary of Zhongtian Urban Development Group Co, flew almost 2,000 kilometers from the southwestern city of Guiyang to the eastern costal city of Shanghai just to attend a shale gas forum held in the city in July.
"It's not a gamble. We hope to leverage the cash earned from the property market to invest in the energy arena," Li said. Zhongtian is a local real estate developer in Guizhou province with total assets of 15 billion yuan ($2.4 billion), according to its website.
State-owned companies strictly control the energy industry so shale gas may be the last resort for privately held companies to participate in the lucrative sector, Li said.
The Ministry of Land and Resources said in May that Chinese companies with more than 300 million yuan of registered assets and survey licenses for natural resources, among others, are allowed to tender.
Zhang Dawei, head of the oil and gas strategy center of the ministry, reiterated several times in public that private investors are allowed to bid to diversify the investment bodies.
Guanghui Energy Co, a privately held natural gas pipeline operator based in Xinjiang Uygur autonomous region, for instance, has shown its strong interest in shale gas exploration.
"We will definitely apply for the second auction but the government has the final say on whether we can squeeze in," said Wang Yuqin, board secretary of Shanghai-listed Guanghui.
Shale gas is a clean and efficient energy trapped within shale formations. China is estimated to have 25.1 trillion cubic meters of exploitable shale gas resources, exceeding the 24.4 trillion cu m in the United States, making it the world's biggest. If all gas can be extracted from the shale, it will able to meet natural gas demand for the world's second biggest energy consumer for two centuries.
China produced more than 103.1 billion cu m of natural gas last year with 7.3 percent year-on-year growth. Apparent consumption - production plus imports minus exports - was 129 billion cu m in the same year.
It topped the world with its 22 percent year-on-year growth in natural gas demand last year, with increasing Chinese production, imported pipe gas and liquefied natural gas supplies, according to the BP Statistical Review of World Energy.
China's natural gas consumption will be doubled within the 12th Five-Year Plan period (2011-2015) to account for 8 percent of its total energy mixture by the end of 2015 from 4 percent now, said Jiang, from the National Development and Reform Commission.
He added that the development of shale gas is a strategic move, given China's ever-growing shortage of natural gas.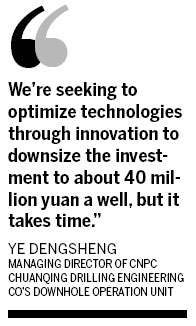 Imported gas made up about 20 percent of domestic gas consumption. The share is estimated to rise up to 40 percent by 2020.
"Shale gas development is a 'revolution' to increase domestic gas supply, improve the energy mixture and protect energy security," said Jiang.
However, in contrast to the widespread enthusiasm in the new market, mostly buoyed by the shale gas boom in the US, the geological data in China is limited and its viability remains doubtful.
"The geology of China's shale gas reserves, as well as the country's water shortages, insufficient pipeline infrastructure, government control over natural gas prices and environmental issues will all challenge China's ambitions, despite the country's extensive plans to support and encourage industry growth," Global Data Ltd, a global business intelligence provider based in London, said in a recent report.
China started tracking shale gas in 2000 with little breakthroughs in terms of policies until 2011, when the geological research and surveys kicked off amid a slew of policies to support its growth.
The country that has yet to have any commercial production has set an ambitious target to produce 6.5 billion cu m of shale gas by the end of 2015, even though it hasn't precisely determined the rough reserves of the energy source beneath the ground.
As of May, China had drilled 63 evaluation shale gas and shale oil wells in total to get the basic parameters, according to Li Yuxi, a researcher at the ministry's oil and gas strategy center. It's uncertain whether these can grow into commercial production.
In contrast, since its first well in 1821, the US has drilled about 80,000 wells across the country. They have annual production of about 170 billion cu m, Li said. China's commercial production hasn't started.
Shale consumption in the US last year accounted for 25 percent of the world's biggest economy's total energy use, from 1 percent in 2006, according to Chen Weidong, chief researcher at China National Offshore Oil Corp's research institute,
The revolutionary breakthrough in the US shale gas sector may soon turn the world's biggest oil importer into a net exporter of natural gas, Chen said.
The shale boom in the US attracted $22.8 billion in foreign investment to the sector from 2009 to January 2012, according to figures from US Energy Information Administration. In the same period, only $1.1 billion was invested in China's shale gas.
Compared with conventional gas, the exploration of shale gas requires more wells and larger-scale investment. In this regard, foreign companies' participation will help accelerate the development pace of the industry, Chen said.
In March, China National Petroleum Corp and Shell China Exploration and Production Co signed the country's first production-sharing contract for shale gas exploration in the Fushun-Yongchuan block in Sichuan province.
The two companies inked a joint assessment agreement to evaluate and assess the reserves of the block in 2010.
So far, most of the world's biggest oil companies, including Exxon Mobil Corp, Chevron Corp, BP Plc, and Norway's biggest energy conglomerate, Statoil ASA, are participating in China's shale gas development.
It is estimated that $6 billion in investment is required in 2015 alone to meet China's targets of 6.5 billion cu m shale production by then, Chen said. "There will be no gas coming out without capital flowing into the industry," Chen said.
The initial investment in exploration is huge. Drilling a well in Sichuan Basin, for instance, requires 60 million to 70 million yuan in capital. In some areas with poor infrastructure and more complex geological conditions, the investment can climb to as high as more than 100 million yuan.
"We're seeking to optimize technologies through innovation to downsize the investment to about 40 million yuan a well, but it takes time," said Ye Dengsheng, managing director of CNPC Chuanqing Drilling Engineering Co's downhole operation unit.
Drilling costs may rise to a very high level if the block is not adjacent to pipelines or LNG terminals, Ye said.
Since 2011, CNPC has drilled 18 wells in South Sichuan Basin located in southwestern China, which is one of the areas estimated to have the country's biggest shale gas reserves and is the major exploration focus at present. Other regions include the Ordos Basin in western China and Tarim Basin in northwestern China.
"We're considering simultaneous fracturing in several wells to cut costs and improve efficiency," Ye said.
On top of sky-high exploration costs, CNOOC's Chen pointed out that the shale gas industry is a "systemic" project, requiring more construction of gas pipes and LNG terminals to facilitate the transportation of the energy source.
Private investment
China's relaxing control over the sector will encourage privately held entrepreneurial companies to participate and will help to push up investment, even though the long-term investment (it requires about 10 years to break even) and the risk of working on dry wells will affect the ambitions of self-made enterprises to gamble on the future of the unconventional gas.
As Zhongtian's Li Jun said, diving into the shale gas sector will require tens of billion yuan investment. In this regard, private companies may consider cooperation to share risks and capital pressure.
In the US, thousands of independent enterprises flocked into the new market, bringing new technology to extract the gas from shale beds that traditional drilling methods could not remove.
By the same token, China hopes to encourage technological innovation to cope with the unique complexity of domestic geology by allowing private companies to gamble on the sector.
The widely applied technology known as hydraulic fracturing may contaminate underground water.
Concerns about the technique have been stressed in China, where environmental protection is attracting more attention.
Water shortages are a major issue in China, yet hydraulic fracturing technology requires vast quantities of water. It is claimed it contaminates waterways with the corrosive and toxic pollutant hydrogen sulfide, which Chinese shale gas contains in abundance.
Sophisticated drilling, gas purifying technologies and strict emission standards would be needed to save China from the damaging effects of drilling and air pollution, Global Data said.
CNPC's Ye said the company is considering recycling chemical fluids to cut the use of water. But he added that smaller Chinese companies have been gaining expertise of the key technologies and developing innovations.
The government said it is planning to provide subsidies to the industry with support for research and development, and will accelerate the pace of releasing more policies to support the development of the industry. However, it did not produce a timetable.
Analysts estimated that the fiscal subsidy for shale gas may parallel that for coalbed methane, which receives 0.2 yuan per square meter for drilling and extraction.
The National Energy Administration said that the current five-year plan period starting 2011 will mark a major focus on confirmed recoverable reserves and the mastering of shale gas exploration and development techniques, laying the foundation for a boost in exploitation in the next decade.
"It's a process of understanding...we're optimistic about shale gas development in China," said Li Yuxi of the Ministry of Land and Resources.
zhouyan@chinadaily.com.cn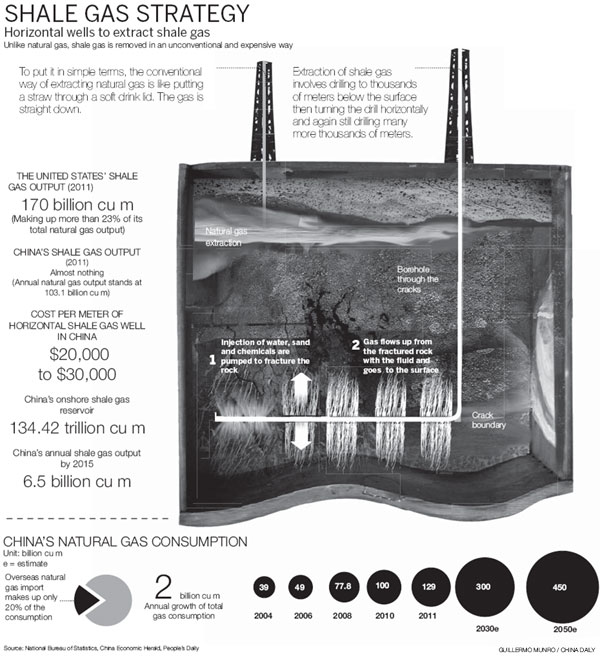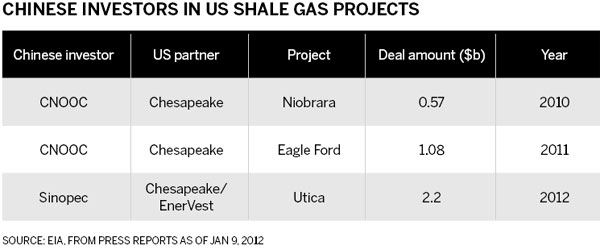 (China Daily 07/16/2012 page13)
Today's Top News
Editor's picks
Most Viewed