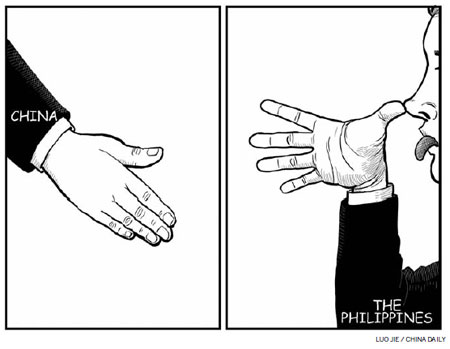 The Philippines should seek a diplomatic solution to the ongoing dispute over the sovereignty of Huangyan Island. China's position is firm; the government prefers diplomatic negotiations to resolve the current tensions, but it will unswervingly safeguard its territorial sovereignty.
The Philippines' unrealistic ambition to grab China's Nansha Islands, of which Huangyan Island is part, has led to its gamesmanship over the past month. This has included harassing Chinese fishing vessels, stating its intention to seek international arbitration, trying to rename the island and removing Chinese signs and monuments and inciting anti-China demonstrations in the Philippines.
For a long time, China's restrained, calm and constructive attitude toward disputes in the South China Sea has been taken advantage of by some countries, especially Vietnam and the Philippines, who have been emboldened to encroach on China's islands and reefs, territorial waters and resources in the South China Sea. They have even sought to introduce third parties into the disputes in an attempt to internationalize the South China Sea and intimidate China.