Imports of US soybeans set for expansion
Livestock industry demand rises, lifted by city residents' food needs
China, the world's largest consumer and importer of soybeans, is expected to step up purchases of the grain from the US to supply the domestic livestock industry as it expands to feed the growing urban population.
China replaced Canada as the largest importer of US agricultural products in 2011. In 2010, 60 percent of all US soybean exports were destined for China, amounting to 25 percent of the US soybean crop.
In February, a Chinese trade delegation consisting of major State-owned food companies such as China National Cereals, Oil and Foodstuffs Corp and China Grain Reserves Corporation (also known as Sinograin), agreed to a record purchase: 13.4 million tons of soybeans valued at $6.7 billion.
The country also imports soybeans from South American growers such as Brazil and Argentina.
"We believe the growth (of US soybean exports to China) will continue in the next few years," said Kirk Leeds, chief executive officer of the Iowa Soybean Association.
Driven by urbanization, China's demand will continue to grow and US soybeans will take "a significant portion of a much larger market", Leeds said on Monday during a visit to Beijing.
China-US agricultural trade could be used as an example for other sectors and a way to enhance bilateral relations, Leeds added.
"Our organization is seeing if we can create politically acceptable opportunities for China to invest in infrastructure in the US," he said.
In the central farm state of Iowa, China's demand has played an important role in expanding the value of the state's exports by 10 percent in recent years.
These exports account for one-fifth of the jobs in agriculture, food processing and advanced manufacturing, said Iowa Lieutenant Governor Kim Reynolds.
Reynolds added that Chinese companies are seeking investment opportunities and avenues for cooperation with companies in Iowa in sectors such as biotechnology and equipment manufacturing.
However, China's increasing food imports have prompted concern about excessive reliance on global markets.
"China should continue diversifying its sources of food imports to avoid over-reliance" on any country, said Ma Wenfeng, a senior analyst at Beijing Orient Agribusiness Consultant Ltd.
The government should encourage Chinese food companies to invest overseas to secure food supplies, he added.
Chinese policymakers have long contended that for the sake of food security, 90 percent of the grain used by the nation should be produced domestically.
In 2011, China imported 10.7 percent of its grain, according to the Ministry of Agriculture.
See video on www.chinadaily.com.cn/video
zhousiyu@chinadaily.com.cn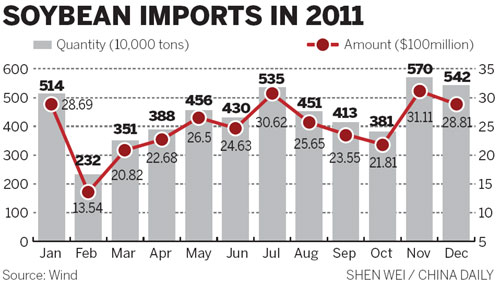 (China Daily 03/21/2012 page13)
Today's Top News
Editor's picks
Most Viewed