Family business, a work of generations
Updated: 2011-12-13 07:08
By Fu Jing and Zhao Shengnan (China Daily)
| | | | | | | | | |
| --- | --- | --- | --- | --- | --- | --- | --- | --- |
|   | | Print | | Mail | | Large Medium  Small | 分享按钮 | 0 |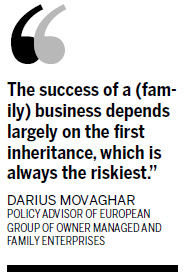 Customer bases built on long trust vouchsafe survival
BRUSSELS/BEIJING -Successful family businesses in China and Europe grow on fundaments that help cope with economic downturns, but it takes generations to develop such traits, experts said.
Darius Movaghar, policy advisor of GEEF (European Group of Owner Managed and Family Enterprises), agreed that it is hard for family businesses to go beyond three generations.
"The success of a business depends largely on the first inheritance, which is always the riskiest," Movaghar told China Daily.
"If that is successful, the next important inheritance is the third one. If it survives three inheritances, the company usually stays in business."
Family businesses are the main form of enterprise in Europe. On average, about 50 to 60 percent of businesses are family-owned and some countries, such as Germany, depend heavily on these enterprises to boost economic growth.
"In Europe, this is definitely a growing trend, as family businesses are a good way of doing business," said Movaghar. Carrefour, L'Oreal, Heineken, Peugeot and BMW are big names in European family businesses. Movaghar added that high-flying CEOs often choose to go into a family business, because these businesses have much more stability, much less pressure (no shareholders, no dividends), and are able to focus on the long term, instead of having to make snap decisions to turn a quick profit.
Movaghar also said that family businesses have been doing well despite the economic downturn, mainly because they have a strong and loyal customer base.
Pan Bisheng, an expert on family enterprises with the Jiangsu Provincial Academy of Social Sciences, said one of the reasons for the prosperity of Western family enterprises is that they raise family members as both technological and managerial experts to run and own the companies.
"In China, the owners of family enterprises pay more attention to management and their personal connection with local officials than they do to technological innovation and high-quality customer service, which their Western counterparts focus on," he said.
Besides, the West has a mature market of professional managers, so family enterprises can still retain the ownership but hire managers who specialize in management or production to run the company, said Liu Weiping, an economic expert at Shanghai University of Finance and Economics.
Without comprehensive legal protection, Chinese family enterprises owners tend to confine operations to family members for fear of losing ownership and to avoid heavy expenses from hiring a professional manager, she said.
But family enterprises have advantages in long-term and stable development, Pan said.
To safeguard the family heritage, family enterprises have to adopt a prudent marketing strategy, as Ford Motor Co of the US has done to survive the financial crisis over the past three or four years, he said.
Regarding the research results, Peng Xiancheng, president of Sichuan Decision Chemical Company has different views. "Actually, I found that things are improving as the country's laws and policies are put in place to encourage entrepreneurship," said Peng, whose company is a leading leather chemical enterprise mainly owned by his relatives and friends.
First, he said, all of the shareholders in his company have already sensed the importance of environmental protection. "And by introducing the mindset-change into daily business life, we are improving our competitiveness," Peng said, adding that he is already busy transforming his company into a "green enterprise" in line with international standards and practices.
"It is hard to do and at the core is the corporate governance transformation," Peng said. He said he has employed a managerial team from Germany, Spain and other countries to implement the plan.
Peng urges the government and business associations to take a "positive and constructive" view in assessing China's family and private enterprises. "We need time to improve, and also we need patience and care, not just criticism, from other stakeholders," he said.
Eveline Filon in Brussels contributed to this story.
China Daily

(China Daily 12/13/2011 page5)