Growth efficiency remains low
Updated: 2011-12-12 07:58
By Wei Tian (China Daily)
| | | | | | | | | |
| --- | --- | --- | --- | --- | --- | --- | --- | --- |
|   | | Print | | Mail | | Large Medium  Small | 分享按钮 | 0 |
BEIJING - The efficiency of China's economic growth, measured in terms of resource use and environmental impact, is rising but still relatively low, with huge regional disparities, a report shows.
The indicator of efficiency, measured by the output value of 1 cubic meter of discharge of waste gas or waste water, stands at 0.91 yuan (14 US cents) a cu m compared with 0.72 yuan a year earlier, said a report released on Saturday by the Beijing Technology and Business University.
The number was calculated by the nominal GDP of a region, divided by its annual pollutant discharge amount, based on data from the National Audit Office's 2010 yearbook.
Beijing topped the 31 provincial regions, generating 5.09 yuan for each cu m of discharge, followed by Tibet and Shanghai.
On the city level, Haikou, capital of Hainan province, ranked first among 273 cities, with an efficiency rate of 41.50 yuan for each unit of discharge, thanks to the low emission level of its pillar industry, which is tourism.
Zhongwei in Northwest China's Ningxia Hui autonomous region came last on the city list, with each cu m of discharge producing just 0.02 yuan in value.
"Output at such a low level is not even enough to offset the environmental losses," said Ji Zhu, director with the university's world economy research center, who also compiled the report.
Meanwhile, overall pollution amounts were still rising, and pollution that was formerly seen only in coastal areas was spreading nationwide.
Western China has been hit hard by the shift of industry to less-developed inland provinces, Ji said.
A notable example was Chongqing, which had become the largest discharger of industrial fumes and third-largest discharger of waste water, because of its expanding industrial sector.
"Ninety percent of China's groundwater, arable land and urban air is now considered polluted, which poses major challenges to China's sustainable development and national health," he said.
China vowed in 2009 to reduce the intensity of carbon dioxide emissions for each unit of GDP in 2020 by 40 to 45 percent, compared with 2005 levels.
According to the survey which Ji's team has conducted annually since 2007, China has made progress in lowering its emissions intensity and increasing the efficiency of its growth.
But the primary reason for the improvement wasn't that the nation did a great job of cutting emissions, but that many smokestack industries closed during the past few years of global economic turmoil, Ji said.
"To achieve real growth efficiency, the only way is to attach more importance to the development of the service sector in China's economic structure."
The service industry only accounts for 36.8 of GDP among the surveyed cities, compared with 76 percent in the United States.
"Service sectors consume mostly human resources, which are renewable and nearly inexhaustible in China," Ji said, adding that the first step would be to invest more in higher education and provide more quality resources.
"Although many would argue that Beijing's development is based on policy support, the fact is that service sectors contribute more than three-quarters of the city's GDP," he said.
China Daily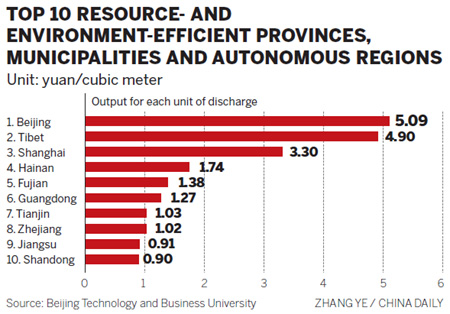 (China Daily 12/12/2011 page7)