Port of the Future: An ambition on the move
Updated: 2011-12-05 07:57
(China Daily)
| | | | | | | | | |
| --- | --- | --- | --- | --- | --- | --- | --- | --- |
|   | | Print | | Mail | | Large Medium  Small | 分享按钮 | 0 |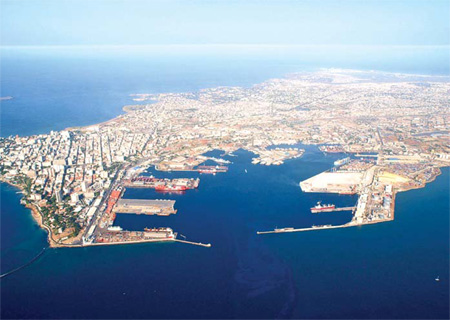 Port of Dakar: a thriving center of commerce for the West African region. Photos Provided to China Daily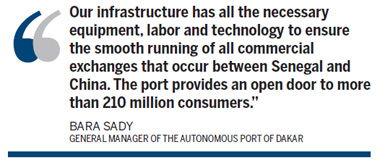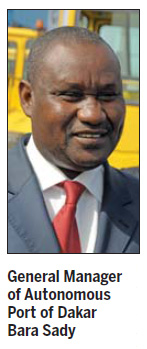 Expansion work begins next year to upgrade West Africa's busy and historic port
Already one of the largest ports in West Africa, the Autonomous Port of Dakar is undergoing major infrastructural expansion as it aims to become one of the most important industrial centers in the region.
Handling 95 percent of Senegal's foreign trade, the port is a privileged partner of the domestic private sector and plays a vital role in regional integration as the gateway to the landlocked countries of Mali, Burkina Faso and Niger.
Thanks to exceptional nautical conditions related to its geographical location, the medium-sized, deepwater port is able to host all types of ships and traffic, including container ships, cargo vessels, carriers, tankers, fishing vessels, ore tankers, and cruise ships.
In an average year, the full-service, split site, port handles around 8 million tons of cargo, including around 3 million tons of liquid bulk (made up of refined hydrocarbons, crude oil, 391.5 phosphoric acid, oil, and gas products, sugar cane, bitumen, caustic soda, chemical products, and wine) - and almost 3 million tons of containerized cargo. It also handles 2.2 million tons of solid bulk, including clinker, BLE, sulfur, coal, attapulgite, rice, and fertilizer. Other solid bulk cargoes included corn, urea, gypsum, and Jonah crabs. On top of that, the port handles around 1.3 million tons of transit and 800,000 tons of transshipments.
Access conditions are very favorable, with the routes clearly marked and regularly dredged. With the ever-increasing passage of goods and growth in facilities, the port is a key factor in the country's socioeconomic development.
Bara Sady, general manager of the Port of Dakar, said: "President Abdoulaye Wade has a clear vision which translates to the building of a modern airport, highways with tolls and an efficient port to add to our existing infrastructure.
"In 2005, these elements gave birth to our visionary project for the port, which has several chapters that contribute to this modernization. As part of this, my management team is currently positioned to complete the Port of the Future. This major work will rehabilitate and expand Jetty 2 and build a terminal road for vehicles," he said.
Port of the future
DP World, a leader in international marine terminal operations and development, logistics and related services, has been entrusted to carry out the works for an investment cost of. Work is scheduled to begin next year.
This new works marks the latest in a long line of developments for the port and the city of Darkar, which, in its colonial heyday, was one of the major cities of the French Empire, home to offices, mills, breweries, refineries, and canneries, attracted by the port and rail facilities.
It was also strategically important to France, which maintained an important naval base and coaling station in its harbor.
Today, Dakar is a thriving cosmopolis of more than a million people, with a strong commercial and financial center.
Attractions include major markets, Dakar Grand Mosque (built in 1964), Dakar Cathedral, Gore Island, the African Arts Museum of West African culture, the newly completed African Renaissance Monument, clifftop walks and beaches, and Hann Park, which is home to Senegal Zoo.
As well as the port, the well-connected town is home to the Lopold Sdar Senghor International Airport. It is also the terminus of the Dakar-Niger railroad line.
When the Port du Future project is complete, the port manager hopes to see exponential growth in the shipping traffic beyond 1.5 million TEUs (twenty-foot equivalent units) promotion of the port's activities and performance, a transfer of international know-how from Dubai firm DP World, and a substantial improvement in the port's finances.
Quality and safety
The Port of Dakar has been awarded several quality standards and prides itself on its top-level security record. Given the level of competition in the region, Sady wants to assure customers of an even better service:
"I am committed to delivering quality," he said. "Significant investment in security in recent years means we have a very secure harbor with an electronic monitoring device.
In order to ensure our port remains efficient and safe, we are working on the implementation of a program to extend our container terminals to a size of nearly 300 meters. For this, we will need further development in terms of equipment, technology and so on which requires massive investment.
"The construction of a third berth will result in the filling in of the basin between the TAC and Jetty 8. The objectives are simply to increase the areas dedicated to container traffic (8 additional hectares), increase the quay by 300 meters, enhance the capacity of host-based platforms to - 13 meters and improve productivity by the presence of gates. We also need a platform of 21 hectares long with warehouses that will have a capacity of 800 meters squared (approximately 50 000 tons).
"I invite all potential investors to come and take look at all possible investment opportunities in this sector."
Mali connection
The Port of Dakar manager is also working to complete a dry port in Bamako, Mali, which will have a total of 14 cold storage warehouses including 2 reefer warehouses. This project will facilitate all transport of goods between Dakar to Mali.
"We have about 1200 kms of road and railroads, therefore 65 percent of all international departures are going to our neighbor Mali," said Sady. "To carry out these projects, we have launched an investment program focused on opening the PPPs to all foreign investors."
Message to China
The Port of Dakar manager had the following message for potential Chinese investors:
"I would like to convey a strong message to our Chinese compatriots in order to take advantage of the efficiency of the Port of Dakar. Our infrastructure has all the necessary equipment, labor and technology to ensure the smooth running of all commercial exchanges that occur between Senegal and China.
"As general manager of the Port of Dakar, I wish to clarify that the port is not only an open door to the Senegalese market, but rather to all 16 of the Economic Community of West African State (ECOWAS) member countries which represent a potential marke of more than 210 million consumers.
"I invite all Chinese businessmen to enter the Senegal and take advantage of all the business opportunities our country offers."
InFocus provided the story.

(China Daily 12/05/2011 page8)