China's new voice is heard
Updated: 2011-09-13 07:46
By Kelly Chung Dawson (China Daily)
| | | | | | | | | |
| --- | --- | --- | --- | --- | --- | --- | --- | --- |
|   | | Print | | Mail | | Large Medium  Small | 分享按钮 | 0 |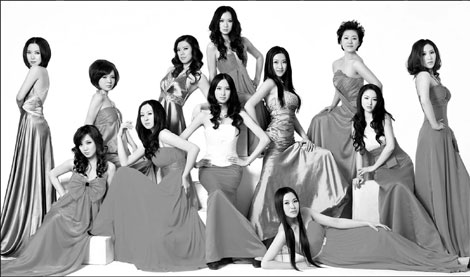 Viva Girls, classically trained at some of China's most prestigious music conservatories, give a modern take on the country's instrumental music. Provided to China Daily
An all-female group gathers traditional Chinese instruments to produce pop music that can be accessed by Westerners. Kelly Chung Dawson reports.
For Western audiences, traditional Chinese instruments are most often associated with Peking Opera and the occasional martial arts film. But with the release of Viva Girls' debut album, Inspiration, in the United States, the all-female Chinese classical pop group hopes to redefine the sound and scope of Chinese instrumental music.
The album was to be released on Tuesday, and later this year the Viva Girls hope to do a North American tour. Classically trained at some of China's most prestigious music conservatories, the 12 members of Viva Girls define themselves as being an "East meets West twist" on classical and pop music.
Earlier this year one of the Viva Girls, Su Chang, took first place in the YouTube Soloist 2011 competition, winning the opportunity to perform solo in an orchestra concert conducted by Michael Tilson Thomas at the Sydney Opera House.
In an interview with China Daily, creators and co-managers Wen Kai-ying and Marcus Yuen, and Su Chang and Maggie Ma of the Viva Girls, spoke about their goals for the group.
"We want the Viva Girls to be spokespeople for Chinese culture," Wen says. "Right now when people think of Chinese cultural figures they think of Yao Ming, and that's a void that needs to be filled. The idea was to make something Chinese in terms of sound, but to get the attention of Western audiences using a cinematic style that will appeal to pop audiences. We have trouble explaining our music, because we're really doing something different."
Viva Girls brings together a variety of Chinese instruments including the erhu (a two-stringed bowed instrument), the pipa (a four-stringed instrument) and the bamboo flute. Although the girls are young, attractive and are often dressed in bright, modern costumes in concert, Wen and Yuen selected the members of the group from elite conservatories based on talent and skill, they say.
"We had very high standards and expectations in finding the members of the group, but ultimately it wasn't just about their technical skill, it was also about their spirit," Yuen says.
"We're not just another pop group. We want them to deliver a positive message as representatives of China to the world, and their music must be nothing less than magical to accomplish that."
Su Chang speaks about the creative freedom of working with Viva Girls after a more structured Chinese classical music education.
"The style of what we're doing with this album is very different from what we were doing in school," she says. "It's about the feeling and emotion of the music. I had to come up with my own understanding of the music, and I feel like this has really opened me up."
One song in the album, Love and Hope, features a Confucian chanting; another, created with the Shanghai Restoration Project, features a hip-hop beat.
"It's been a true learning process," Ma says. "It was very new, but as I got more comfortable, I tried to make the music my own. Much like when you meet someone new and need time, the more comfortable we became, the more expressive we were."
One of the challenges of creating a pop music sound with an ensemble is the soloist nature of most traditional Chinese instruments, Wen says.
"Chinese instruments were often developed at different points in Chinese history," he says. "It's not like Western orchestras where the instruments were engineered to be an ensemble. Chinese instruments were never designed for being played together, but one of the interesting challenges with Viva Girls has been figuring out how to play these solo instruments together. Chinese traditional music isn't written with harmonies, so we're trying to push the boundaries of what constitutes Chinese music. Ultimately, it is 12 lead voices - how do you make sure no one gets lost?"
Wen says that the individual personalities of the members come through in the process.
"It was unclear in the beginning who would take the lead in each song, but that developed over time," he says. "The music isn't just the girls playing the same parts. This is 12 different girls with their own personalities and instruments, finding their individual voices together."
Methods of playing have been adjusted in unconventional ways, Wen says. An instrument traditionally played with hammers might instead be flipped over to produce a different sound, for example.
"There's a lot of freedom for expression," Su says. "It's not just about playing difficult or complex music, it's about creativity and it has a pop flavor."
This modern take on Chinese instrumental music is more likely to reach Western audiences, Ma says.
"As former students of classical Chinese music we like both Chinese and Western music, but now we have something that can connect to everyday modern life. I think about it as a bridge across a river."
The girls are all aged between 20 and 23, and, as such, live fairly modern lives, Yuen says.
"In the conservatories they were studying traditional music, but this is a chance to express what it is to be a modern young Chinese person in China today. This is an opportunity to educate the world about Chinese instruments and demonstrate how they can be modern too. China is much closer to the world these days, and it's more modern every day.
"Many people who have approached Su to express their interest in the music are young," Yuen says.
"We're working to make sure that someone tells China's story," Wen says. "We don't see China's story being told accurately, and we're hoping to change that."
For Yuen, the success of the group speaks to a blurring of Eastern and Western cultural boundaries. Su's win in the YouTube competition is particularly poignant, he says.
"The YouTube symphony competition was meant for Western instruments, and yet she was able to win with a Chinese instrument. We hope to continue to blur those lines with the Viva Girls. Those lines don't have to exist."
(China Daily 09/13/2011 page20)