Noda to take helm in Japan
Updated: 2011-08-30 08:07
By Qin Jize and Ma Liyao and Malcolm Foster (China Daily)
| | | | | | | | | |
| --- | --- | --- | --- | --- | --- | --- | --- | --- |
|   | | Print | | Mail | | Large Medium  Small | 分享按钮 | 0 |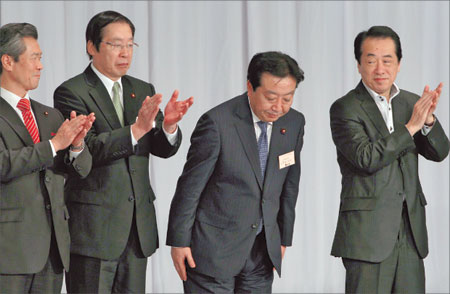 Newly elected leader of the Democratic Party of Japan Yoshihiko Noda bows as outgoing Prime Minister Naoto Kan (right) and two of Noda's rivals, former transport minister Sumio Mabuchi (left) and Minister of Agriculture Michihiko Kano, acknowledge his victory after voting by party lawmakers in Tokyo on Monday. Shizuo Kambayashi / Associated Press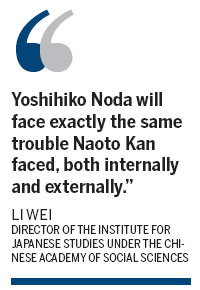 Sixth PM in five years faces challenges on domestic and international front
TOKYO / BEIJING - Japan's finance minister is set to become prime minister after winning the ruling party's leadership election on Monday.
Yoshihiko Noda will be Japan's sixth prime minister in five years on Tuesday and faces a dizzying array of problems, including tsunami recovery, a ballooning national debt and improving relations with neighbors.
As finance minister, Noda, 54, already has been battling economic malaise. But when he takes over from Naoto Kan he will take on an even more formidable challenge not made any easier by a rapidly aging population and public dismay with the government as the country rebuilds from the worst disaster to hit Japan since World War II.
"Yoshihiko Noda will face exactly the same trouble Naoto Kan faced, both internally and externally," Li Wei, director of the Institute for Japanese Studies under the Chinese Academy of Social Sciences (CASS), said.
"And those troubles forced Kan to resign."
Noda defeated Trade Minister Banri Kaieda - who was backed by a party powerbroker - in a run-off election on Monday. Noda secured 215 votes against 177 for Kaieda among parliamentary members of the Democratic Party of Japan. None of the initial five candidates won a majority in the first round. Noda came from behind to win the run-off, after getting 102 votes in the first round to Kaieda's 143.
As party chief, Noda will go on to become prime minister because the Democrats control the more powerful lower house. Parliament is expected to approve Noda as prime minister on Tuesday.
He faces an immediate challenge in restoring public confidence that has been shattered by political infighting in the wake of the disasters in March - the quake, ensuing tsunami and nuclear crisis. Kan's approval ratings had plunged below 20 percent.
"Let us sweat together for the sake of the people," Noda told fellow party members after the vote. "This is my heartfelt wish."
Even before the tsunami hit, Japan's economy was stuck in a 20-year malaise with a shrinking tax base and labor pool due to a graying population.
"Japan has serious debt problems though they have not caused the same crisis as has happened in some Western countries," Li said. "Nonetheless, the country's financial structure is problematic."
With Japan's ballooning deficit now twice the size of its gross domestic product, Noda had suggested raising the 5 percent sales tax. But he's toned down that talk lately, and no quick change is expected on taxes, which would need parliamentary approval.
Hiroshi Matsuno, director of Tsinghua-NRI China Research Center, said Noda's experience as finance minister had helped secure him the party leadership.
"Right now, how to handle Japan's mounting debt is of the utmost importance. It is the topic that concerns the Japanese public most," he said.
Matsuno said Noda's "good connections" with financial bureaucrats would help him deal better with the debt problem.
Wang Ping, a researcher on Japanese studies at the CASS, said another of Noda's priorities will be to tackle internal party strife.
"One of the major factors that forced Kan to resign is that he did not manage to unify the party," she noted.
After the vote, Noda called for party unity, using a popular rugby term in Japan referring to the tradition that after a game ends there are no longer opposing sides on the field.
A fan of wrestling, Noda has projected an image of a straight shooter, saying he is not good at playing "underhand tricks" in politics.
Still, Noda must also deal with a divided parliament, which has increased gridlock, after the opposition won control of the upper house last summer.
On foreign relations, Noda is a staunch supporter of the Japan-US security alliance, which he has called "essential for Japan's security and prosperity".
He sparked a strong response from Japan's neighbors weeks ago when he said on the anniversary of the country's 1945 surrender that Class-A war criminals convicted by an Allied tribunal were in fact not war criminals.
He has also said China's rapid military buildup and expanding naval activities pose a serious regional risk.
Yang Bojiang, a professor of Japanese studies at the University of International Relations, said Noda's policy toward China would not be friendly and "he would not budge when dealing with China" because of his consistent position on history between the two countries.
But Liu Jiangyong, vice-dean of the institute of modern international relations at Tsinghua University, was more optimistic about the new Japanese leader's China policy.
He said Noda "should be more careful with his words" now that he is set to be prime minister.
But "if he respects and acts in accord with what has been agreed upon between China and Japan in handling relations, especially in dealing with sensitive issues, bilateral relations may get out of the doldrums", he said.
China has criticized high-profile visits by Japanese leaders in the past to Tokyo's Yasukuni Shrine for the war dead. Among those honored are war criminals convicted by the Allied tribunal after World War II.
In September 2010, Japan held a Chinese trawler captain after his boat collided with Japanese coast guard vessels near China's Diaoyu Islands. Beijing canceled diplomatic meetings in protest at Japan's detention of the captain.
But Makoto Oda, NHK's Beijing correspondent, said he is not worried about Noda's stance toward China.
"Japan's China policy will not be determined by Noda's personal preference, but by political reality, which would not allow Sino-Japan relations to deteriorate," he said.
No Japanese prime minister has lasted much more than a year since 2006 and most market players polled by Reuters this month thought the next government head would be no exception.
"Noda faces the same troubles as his predecessor, but his policies are unlikely to be much different," Wang, at the CASS, said.
"I don't think Noda's government can last long. It may last even a shorter time than Kan's."
Reuters, Zheng Yangpeng and Zhang Yunbi contributed to this story.
China Daily
Associated Press
(China Daily 08/30/2011 page1)