A dignified farewell to one whose life was lived with dignity
Updated: 2011-08-25 07:44
By Judy Polumbaum (China Daily)
| | | | | | | | | |
| --- | --- | --- | --- | --- | --- | --- | --- | --- |
|   | | Print | | Mail | | Large Medium  Small | 分享按钮 | 0 |
On Aug 9, two days after his wife's abrupt, premature death halfway around the globe from her homeland, Sun Chenbei and his daughter Sun Weisi went to Macy's in downtown Washington DC. Chenbei needed a black suit.
"Does it have to be black?" asked the helpful saleswoman as she sought appropriate sized jackets and slacks from the racks. Yes, it had to be black, Chenbei said matter-of-factly. He did not say why.
On Wednesday, three days after her mom's death, Weisi and her dad Chenbei went to a Washington DC florist to help two women from China Daily's DC office to choose funeral flowers. Weisi's mother would be commemorated and cremated the next day, and her father would carry a wooden container of ashes (wood for getting through airline security) back to Beijing for a larger memorial meeting there.

I was with Weisi and Chenbei on errands, taking consolation merely from being around the closest remaining incarnations of my longtime friend and colleague Li Xing - a journalist of prodigious energy and exuberance who was like a sister to hundreds of friends, a teacher and mentor to hundreds more, and a source of information and insight to hundreds of thousands of daily readers.
At the department store, I marveled at Chenbei's and Weisi's composure and lack of self-pity. With all the reasons a guy might have to buy a black suit (for business, say, or for a wedding), they weren't about to burden the shop clerk with their sorrows. How like Li Xing, I thought - attending to the requirements of the moment without drama or spectacle.
At the florist, as Weisi wandered around holding a single long-stemmed white rose, I asked the owner when the plethora of flowers would arrive at the funeral home, about a 10-minute drive away. They'd deliver some of the arrangements that evening, he said. Then they'd work through the night and bring the rest on Thursday morning for the 10 am ceremony.
I imagined Li Xing thinking: That's a story! She would have spent the night at the shop, covering how the flower pros went about their business on zero sleep.
Li Xing would have been the last person to place herself at the center of a commotion. But if funerals are for the living more than the departed, she would have understood. Meanwhile, she'd be off committed to journalism.
Her career as reporter, columnist and editor corresponded with China Daily's emergence and growth - the year before the inaugural issue hit the streets in mid-1981, she was plucked from the first post-"cultural revolution" (1966-1976)college cohort of promising English majors to spend a year studying journalism at the University of Hawaii (the paper's current chief editor, Zhu Ling, was in that same group). Li Xing later earned a master's in journalism from Stanford University.
Over three decades, Li Xing served as confidante, keen-eyed observer, stalwart witness and eloquent voice for the lives, dreams, challenges and achievements of those she interviewed and wrote about. As she moved up in the newspaper hierarchy, taking on increasingly heavy editorial responsibilities, she never stopped reporting and writing.
Some people would call Li Xing a workaholic. When she spent a month teaching at my university in the US Midwest and living at my home, technically on leave from the paper, she was on the computer every night (the next morning Beijing time) working in the virtual newsroom. But for her, chronic industriousness wasn't an affliction; it was a mode of life that she loved and that enfolded her family as well.
Even with a career of his own, Chenbei was a China Daily brother, and Weisi grew up surrounded by her journalist aunties and uncles.
Li Xing was posted to DC as China Daily's chief US correspondent only last spring, and had eaten noodles (reputed to ensure long life) for her 54th birthday just a few days before a blood vessel burst in her brain. Her time with us was far too short, but everyone who knew her knows she packed the experiences of many lifetimes into those 54 years.
The world is a richer place for Li Xing having inhabited it. I am the richer for her friendship, and honored to be writing once more in the paper that carried her weekly column - even if 750 words barely begin to express how much she meant and how much we'll miss her.
Thankfully, she's still with us - in her voluminous legacy of writings, in her legions of fans and friends, in her husband's zest and her daughter's spunk. Li Xing's effervescent personality suffuses the air. Li Xing's luminescent smile will never fade.
Judy Polumbaum teaches journalism at the University of Iowa, Iowa City, US. She worked at China Daily during its first year of publication, 1981-82.
China Daily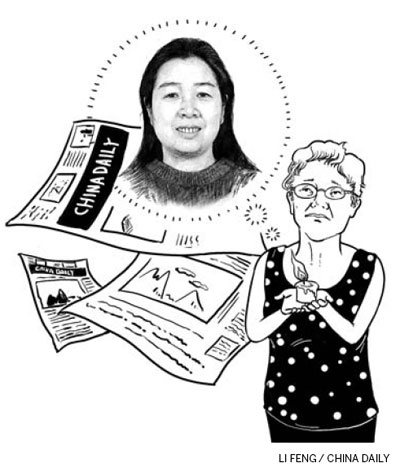 (China Daily 08/25/2011 page20)