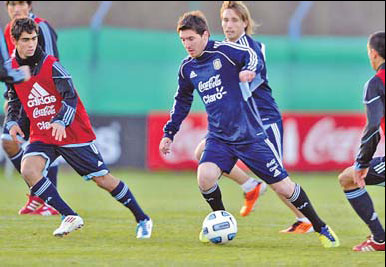 Argentina's forward Lionel Messi (center) controls the ball during a training session of the national soccer team in Ezeiza, Buenos Aires, on June 27, ahead of the Copa America tournament in Argentina. Alejandro Pagni / Agence France-Presse
BUENOS AIRES - Argentina stars may be plotting the demise of Bolivia in Friday's opening Copa America fixture - but it is the relegation of emblemic club River Plate which has been the chief topic of conversation in recent days.
Even the arrival of European-based megastars such as Lionel Messi and Carlos Tevez has not been able to distract fans from the shock of River's demise last Sunday as it went down for the first time in its 110-year history, amid tears and scenes of violent mayhem.
The Buenos Aires team is Argentina's most successful club with 33 championships to its name, and its rivalry with Boca Juniors, based in the same city, is one of the most intense in all sport - but it will not meet in the league next season after River lost a two-legged playoff against lowly Cordoba outfit Belgrano.
The Primera B side had won the first leg 2-0, meaning River Plate had to win by two clear goals to stay up under the playoff system rules, but could only draw 1-1, sending the team, whose president is 1978 World Cup-winning skipper Daniel Passarella, down.
Argentines are fanatical about their club soccer and many are incredulous at what has happened to River.
The media also have focused on the story, making the run-up to the 43rd Copa a fairly tepid affair by comparison.
"A question of state," was how daily Clarin saw the issue on Thursday amid reports that politicians plan to punish the club for the violence which accompanied its humiliating loss to Belgrano.
Supporters went on the rampage, leading to about 70 people being hurt and around 100 arrests at the club's Monumental stadium.
Pictures of the unrest went around the globe at the worst possible time for the image of the Argentinian game, given that it is supposed to host the Copa final on July 24. Sports newspaper Ole also focused on the River fallout, relegating the Copa to a secondary item.
But the event is also barely rating a mention in taxis, bars and cafes - even if Argentina is desperate to win the tournament to prevent rival Brazil lording it over it for a third edition in succession while the host has won nothing at senior level since 1993.
Tourist boards in the various centers of the country which will host the cream of the Latin game in the coming four weeks will hope that at least supporters from other countries will give the local economy a boost in northern cities such as Jujuy and Salta, Cordoba and Santa Fe in the center and San Juan and Mendoza in the west.
Agence France-Presse
(China Daily 07/02/2011 page16)