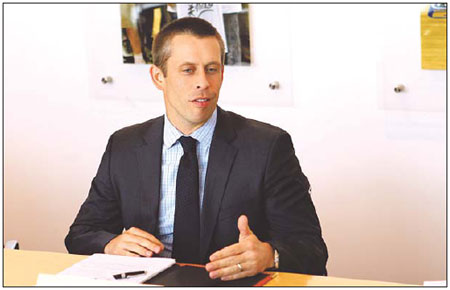 NBA China's new CEO, David Shoemaker, talks during a press conference last week after taking over the post three weeks ago. Provided to China Daily


BEIJING - Despite the absence of hoop icon, Yao Ming, newly-appointed National Basketball Association (NBA) China's CEO, David Shoemaker, has faith in the sport's foundation here and has vowed to keep its momentum going.
Houston Rockets' all-star center Yao, who triggered nationwide interests in the NBA since his debut in 2002, is battling a career-threatening ankle injury. His uncertain future and possible retirement would supposedly reduce the NBA's popularity in China.
However, the new boss shrugged that scenario off and stressed the game's close bond with the nation.
"I don't see (Yao's) uncertainty is having a negative impact. In fact, I think it has generated a whole lot of interest," said Shoemaker, who officially assumed the post on June 1, replacing Tim Chen.
The media's focus on Yao's injury and the potential lockout bring more exposure to the league, said Shoemaker.
"Yao has done amazing things to grow interest in the NBA in China. With the help of charismatic role models like him, the NBA has already built a strong foundation. I am very confident of maintaining that momentum upwards," Shoemaker said during a group interview last week.
The 39-year-old newcomer said it would not be appropriate for him to speculate about the possibilities of a potential NBA lockout, citing "all efforts have been focused in reaching a new collective bargaining agreement (CBA) with the players".
After leading the expansion of the Women's Tennis Association's (WTA) franchise in China as president for two years before joining the NBA, Shoemaker is aware of the differences promoting professional sports in China and abroad.
He admitted he was a rookie in basketball but a good team player, and underlined the importance of solidifying relations with the local governing bodies.
"I've gone from serving little tiny yellow balls to much larger orange balls. Learning from the experiences with the WTA, I have found it is important to be collaborative, patient and respectful to do business in China.
"I believe taking the sport to next level involves collaborating with others, including the Chinese Basketball Association (CBA) and the general administration of sports. We have been working closely on a joint effort," said the 39-year-old Ottawa, Canada native, who was a lawyer before entering sports management.
However, the NBA's initiative to bring a sub-league to China was suspended due to the high costs for domestic clubs and the CBA's refusal to give up its administration rights a few years ago.
Although that bold move was postponed, Shoemaker is still full of praise for NBA China's successes, including the China Games between NBA teams which have been held five times since debuting in 2004.
"Our focus right now turns to sharing the common goal of growing the sport at the grassroots level," Shoemaker said.
NBA China has staged various interactive campaigns, including fan carnivals, jam van activities and tours by NBA stars. It also concentrates on cultivating the nation's coaching talent which has seen more than 200 Chinese coaches receive advanced US training through a program which started in 2009.
Meanwhile, a NBA-standard training center has been built in Dongguan, Guangdong province, in partnership with local CBA club, Dongguan New Century, to train the nation's young players, Shoemaker said.
China Daily
(China Daily 06/28/2011 page22)